Documents on the Tokyo International Military Tribunal Charter, Indictment, and Judgments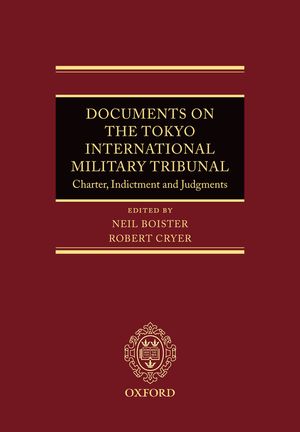 ISBN13: 9780199541928
Published: September 2008
Publisher: Oxford University Press
Country of Publication: UK
Format: Hardback
Price: £272.50

Usually despatched in 1 to 3 weeks.
Provides a full republication of the judgment of the Tokyo International Military Tribunal, including dissenting and separate opinions
Includes an analytical index of the entire judgment, facilitating research into the legal questions raised by the Tribunal
Features an extended introduction by the editors, setting the Tribunal and its judgment in their historical and legal contexts

Despite the recent growth of interest in international criminal law, in research and practice, the Tokyo International Military Tribunal remains largely neglected. One of the reasons for this is the absence of any readily available version of the judgments that emanated from the Tribunal. This absence has prevented informed debate about a hugely important part of the development of international criminal law.

These volumes fill the gap in the literature by reproducing the full text of the judgment, the separate and dissenting opinions and a selection of accompanying documents, including the charter, indictment and rules of procedure. All the documents are indexed and referenced to the original pagination of the Tribunal transcript. In addition, an introductory essay by the editors explains the nature of the tribunal and the law it applied, and outlines its impact on contemporary international criminal law.