Police Misconduct, Complaints, and Public Regulation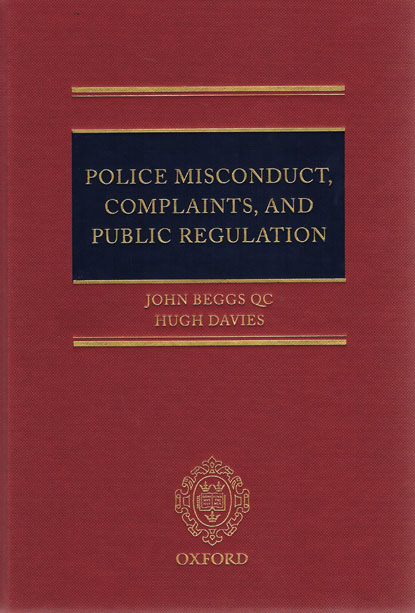 ISBN13: 9780199546183
Published: July 2009
Publisher: Oxford University Press
Country of Publication: UK
Format: Hardback
Price: £152.50

Police Misconduct, Complaints and Public Regulation covers the highly sensitive topic of who polices the police. It provides comprehensive coverage of the law and procedure relating to the regulation of the police - setting out comprehensive guidance on practice at complaints and misconduct hearings, as well as detailed analysis of the powers of the IPCC and of its statutory guidance.
It includes dedicated chapters on related sets of proceedings, notably the complaints and discipline process (from recording the complaint through to the Police Appeals Tribunal); specific criminal offences (misconduct in public office, manslaughter); inquest proceedings; public inquiries; and judicial review. The content reflects the substantial developments in the law and practice in these inter-related proceedings since the implementation of the Police Reform Act 2002 in April 2004, as well as the radical reforms introduced by the Police (Conduct) Regulations 2008.
The authors bring together, in a detailed and practical narrative, the relevant statutory powers, secondary legislation, statutory guidance and increasing body of High Court jurisprudence. They include user-friendly diagrams and process maps to illustrate and explain the narrative and legislation. Appendices include regulations and associated Home Office Guidance under the 2004 and 2008 performance and misconduct regimes, and the new 2008 PAT Rules.
Written by two barristers with extensive experience representing and advising police forces and officers, this book is an essential text for solicitors and barristers involved in police misconduct issues.