Construction Adjudication and Payments Handbook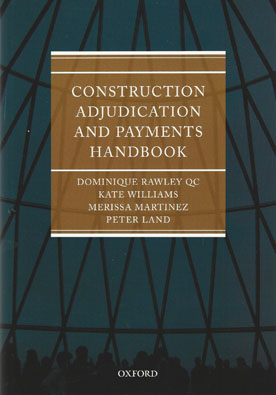 ISBN13: 9780199551590
Published: August 2013
Publisher: Oxford University Press
Country of Publication: UK
Format: Paperback
Price: £105.00

This book provides a user-friendly and practical guide to compliance and adjudication under the Housing Grants, Construction and Regeneration Act 1996.
Timed to coincide with both the 15th anniversary of the Act coming into force (1 May 2008), and the culmination of its review by parliament, the work will provide an up-to-date compendium of case law and useful materials which will be valuable to the construction industry, legal practitioners, and students.
The book provides a comprehensive and practical coverage both of the adjudication and payment provisions of the act. It is set out in an accessible format dealing in turn with each of the major sections of the Act, and with a separate section of case summaries.
The book will cover the large number of cases and developments since 2001, including the outcome of the 2007 Construction Act Review. It will include the authors' commentary alongside extracts from cases which are often including in drafting the Referral, Response or Reply or any challenge to enforcement in the Courts. It will have the relevant excerpts in one place means that consideration for factual relevance and inclusion in submitted documents will be a quick and easy process.
This title provides an indispensable review of the statutory framework and the judicial guidance over the last decade and is an excellent resource for construction lawyers and industry professionals.
Provides an up to date and user-friendly practical compendium of statutes, and case law, as well as authored commentary on adjudications
Covers both the adjudication and payment provisions of the Housing Grants, Construction and Regeneration Act 1996
Contains comprehensive coverage of the Act in a clear, accessible layout
Analyses each of the major sections of the Act in turn with sections on: Construction Contracts, Adjudication, Payment Provisions, and Supplementary Provisions
Contains a companion website which will be updated to include reference to developments in the area