Brick Court Chambers: Competition Litigation UK Practice and Procedure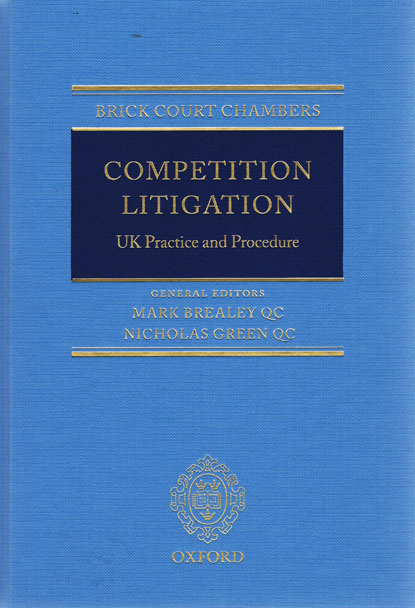 ISBN13: 9780199573332
Published: March 2010
Publisher: Oxford University Press
Country of Publication: UK
Format: Hardback
Price: £305.00
(Second Hand)

Competition Litigation: UK Practice and Procedure is the new definitive work on competition litigation in the UK. Written and edited by a team from leading competition set Brick Court Chambers, this book draws upon the vast collective experience of the authors and offers unprecedented breadth of commentary and depth of expert insight into the practice and procedure of competition litigation, focussing particularly on the High Court and the Competition Appeal Tribunal.
The work covers all aspects of competition litigation including: commencement of proceedings, jurisdiction, statements of case, disclosure, evidential issues, privilege and confidentiality, hearings, intervention, remedies, and dispute resolution. It takes a unique hands-on approach to the subject, offering extensive practical guidance that goes beyond the scope of typical civil procedure books.
The book will be an essential companion for any practitioner specialising in contentious competition law, as well as for those in the judiciary and the regulatory authorities themselves. It will also be the first port of call for commercial litigators who need to understand the specific demands and peculiarities of competition litigation.
Co-authored by the barristers of Brick Court Chambers, an outstanding team of specialists in all aspects of EU and Competition litigation, who have been involved in many of the leading EU and UK Competition Law cases
A 'one-stop' reference point providing relevant and up-to-date guidance and advice to competition or litigation practitioners at all levels
Covers all aspects of case work including commencement of proceedings, jurisdiction, statements of case, disclosure, evidential issues, privilege and confidentiality, hearings, intervention, remedies, quantum issues, costs, appeals, arbitration, mediation and criminal proceedings
The first text to consider a number of important developments such as the prospect of criminal proceedings under competition legislation, the potential application of the Commission's White Paper on Damages Actions, and the impact of the wide-reaching competition provisions in the new 'Rome II' Regulation