Blackstone's Counter-Terrorism Handbook 2nd ed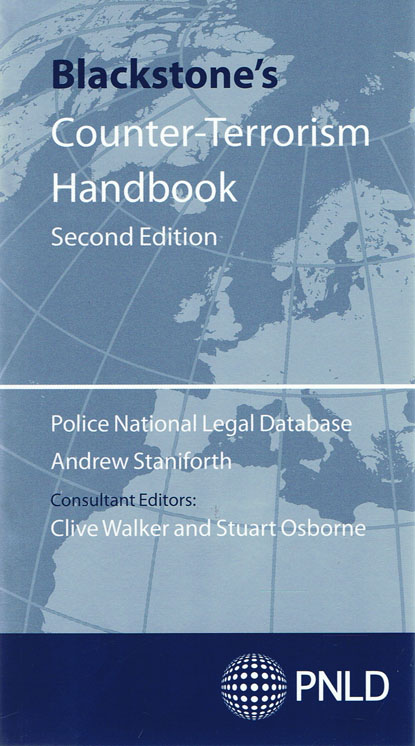 ISBN13: 9780199597109
Published: November 2010
Publisher: Oxford University Press
Country of Publication: UK
Format: Paperback Pocketbook
Price: Out of print

Policing counter-terrorism forms a central strand of the 2009-2012 National Policing Plan, under which all police officers are expected to have a basic understanding of policing counter-terrorism and anti-terrorism legislation.
Following European Court challenges concerning the use of terrorism stop and search powers and controversy in British courts of the legality of control orders, terrorism legislation continues to be tested in court as numerous convictions for a variety of terrorism related offences have taken place.
In addition, new terrorist groups have been outlawed and the threat level was raised to 'severe' in January 2010 following the links of the Christmas Day Detroit airline bomber to UK universities. The second edition of the successful Blackstone's Counter-Terrorism Handbook has been fully updated to cover these developments and all new relevant legislation and case-law, as well as coverage of the CONTEST 2 Counter-Terrorism strategy and security planning for the 2012 Olympic Games.
The book is divided into two parts, offering readers both a helpful and informative history and context to policing counter-terrorism as well as all the relevant legislation, drawn from and linked to the government-sponsored Police National Legal Database.
Part 1 of the Handbook provides readers with an operational framework and context to counter-terrorism. It also outlines the police counter-terrorism structure, the Government's CONTEST 2 strategy, and the roles and functions of key organizations (from M15 to HM Revenue & Excise). All this information is supplemented with case studies, practical scenarios and checklists, to illustrate the practical application of the legislation.
Part 2 is devoted to counter-terrorism legislation itself, focussing primarily on police powers and procedures. These provisions are accompanied by explanatory notes, related case law and points to prove, ensuring that the information is easily comprehensible and digestible. Appendices featuring key legislative extracts and a comprehensive list of Proscribed Organisations make it easy for officers to locate the relevant information. An essential resource for all patrol officers and PCSOs, this portable handbook is aimed specifically at the police and their counter-terrorism training needs.