Oxford Guide to Effective Writing and Speaking 3rd ed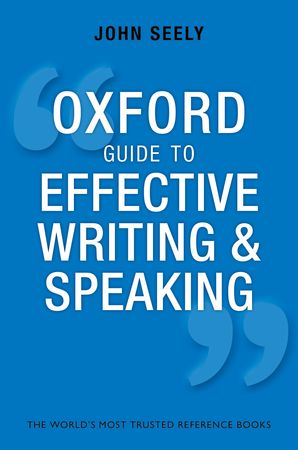 ISBN13: 9780199652709
Published: October 2013
Publisher: Oxford University Press
Country of Publication: UK
Format: Paperback
Price: £14.99

Usually despatched in 1 to 3 weeks.
The Oxford Guide to Effective Writing and Speaking is the essential guide for everyone who needs to communicate in clear and effective English, both written and spoken. John Seely looks at the key factors to consider in tailoring your material so that you get your message across, such as understanding the demands of particular audiences, subjects, and situations.
Clearly organized, the book is arranged in four sections:
Part A: Communicating in everyday life - covers a wide range of communications including writing emails to giving presentations and preparing reports.
Part B: Getting your message across - focuses on important factors such as the audience, the subject, time, and purpose.
Part C: Communication tools - offers advice on grammar, vocabulary, spelling, and punctuation to ensure that communication is accurate as well as appropriate.
Part D: The process of writing - looks at what's involved in writing longer pieces, including planning and drafting, research, summaries, editing, and presentation.
Full of practical guidance, this book also includes helpful 'You Try' sections and 'guidelines' to practise and reinforce what you've learnt. The answers to the exercises in the 'You Try' sections can be found at the back of the book. The book covers a wide range of communications, from email to business letters and job applications to reports, and advice on writing techniques for an online environment.
This is the most comprehensive guide available to using English for effective communication, covering a wide range of situations and requirements, making it ideal for use at work, at school and university, or at home.