Colonial Copyright: Intellectual Property in Mandate Palestine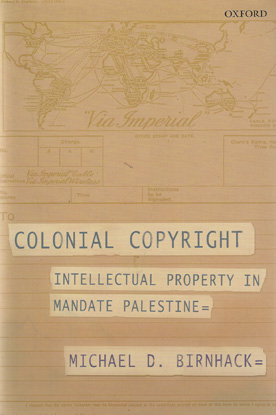 ISBN13: 9780199661138
Published: October 2012
Publisher: Oxford University Press
Country of Publication: UK
Format: Hardback
Price: £140.00

Despatched in 5 to 7 days.
When the British Empire enacted copyright law for its colonies and called it colonial, or Imperial, copyright, it had its own interests in mind. Deconstructing the imperial policy regarding copyright offers a startling glimpse into how this law was received in the colonies themselves.
Offering the first in-depth study from the point of view of the colonized, this book suggests a general model of Colonial Copyright as it was understood as the intersection of legal transplants, colonial law, and the particular features of copyright, especially authorship.
Taking as a case study the story of Mandate Palestine (1917-1948), the book details the untold history of the copyright law that became the basis of Israeli law, and still is the law in the Palestinian Authority. It queries the British motivation in enacting copyright law, traces their first, indifferent reaction, and continues with the gradual absorption into the local legal and cultural systems.
In the modern era copyright law is at the forefront of globalization but this was no less true when colonial copyright first emerged. By shining a light on the introduction and reception of copyright law in Mandate Palestine, the book illuminates the broader themes of copyright law: the questions surrounding the concept of authorship; the relationship between copyright and the demands of progress; and the complications of globalization.
Tells the story of colonial copyright history from the overlooked perspective of the colonized peoples
Provides an innovative general framework for studying copyright history in former colonies
An interdisciplinary study of an important area of legal history that continues to shape copyright law today
Material drawn from rarely-seen archival resources, covering a variety of creative works and technologies