EU Law in Criminal Practice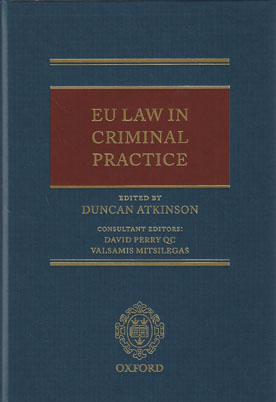 ISBN13: 9780199664252
Published: March 2013
Publisher: Oxford University Press
Country of Publication: UK
Format: Hardback
Price: £197.50

The law of the EU has an increasing effect on domestic criminal law and poses a growing number of questions to practitioners and their clients.
What happens if a client has commited a crime in another country? What if crimes have been committed in multiple countries? What limits does the EU impose on sentencing? In what circumstances can a European Arrest Warrant be granted, and how can a Warrant be challenged? What will be the impact on EU law measures if the UK Government exercises an opt-out?
Answering these questions, and offering clear, practical assistance to those working in this complex area, EU Law in Criminal Practice is the only book to offer a comprehensive and practical guide to the interplay between European Union law and UK criminal practice. It enables the busy criminal practitioner to understand the legal landscape that the Treaty of Lisbon created, offering a thorough and practitioner-focused analysis of the relevant regulations and case law.
From explanation of the institutional framework through to the substantive law of offences, sentencing, and appeals, the book is an invaluable guide for all engaged in modern criminal practice.