Bribery: Law and Practice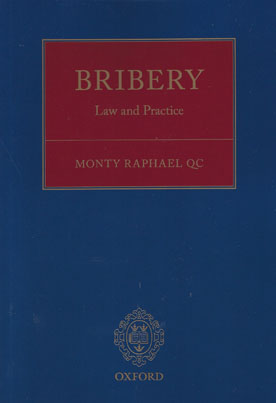 ISBN13: 9780199686384
Published: March 2016
Publisher: Oxford University Press
Country of Publication: UK
Format: Paperback
Price: £75.00

Despatched in 3 to 5 days.
From being a minority interest of NGOs and niche law firms, corruption has grown into a subject which is rarely out of the media and which corporate lawyers and specialist consultants worldwide have seen as a new business opportunity.
Bribery: Law and Practice from Monty Raphael QC, one of the most respected lawyers in this field, offers a comprehensive, authoritative overview of this increasingly significant area of law that updates and expands on his earlier Blackstone's Guide to the Bribery Act 2010.
In the years since the Bribery Act came into force there have been a great many developments in legislation, regulation, compliance, and forensic investigation which are fully covered in this volume, including the introduction of Deferred Prosecution Agreements in the Crime and Courts Bill 2013 and the issuance of new guidance on business expenditure, facilitation payments, and self-reporting, among others, by the Serious Fraud Office, the Ministry of Justice, the Financial Conduct Authority, Transparency International, and the International Chamber of Commerce.
Discussion of these new developments is complemented by rigorous insights into practice and policy and the provision of an accessible synthesis of all the available aids to compliance and regulation.
Offering unparalleled practical advice and insight and answering those questions most frequently asked by those confronted with suspicions about or actual incidences of bribery and corruption, this book is an indispensable guide to not only practitioners in the fields of criminal law, and particularly financial crime, but also to those in the business community with a corporate presence in the UK.