Moss, Fletcher and Isaacs On The EU Regulation on Insolvency Proceedings 3rd ed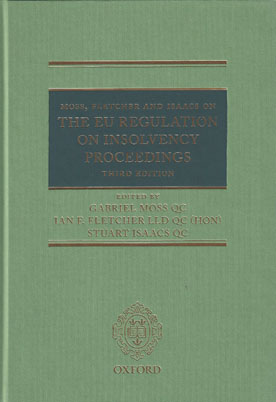 ISBN13: 9780199687800
Published: March 2016
Publisher: Oxford University Press
Country of Publication: UK
Format: Hardback
Price: £232.50

This practical book provides complete analysis of the revised EU Regulation on Insolvency Proceedings (EIR), the main Regulation on cross-border insolvencies in the EU. This is an essential work for anyone who requires knowledge of insolvency law in the UK or in any of the other 26 EU countries to which the Regulation is directly applicable.
Timed to take into account the final amended version of the EIR, this third edition of the leading work contains detailed analysis and opinion on the effect of the changes to Regulation in practice. It also considers the numerous ECJ and relevant national cases which have been decided since the last edition.
As in previous editions the work is organised thematically with chapters considering jurisdiction, choice of law rules, enforcement, security, and financial services. Chapter 8 provides an article-by-article commentary of the Regulation itself.
This is the leading work on the subject in English and has been cited by numerous courts in the EU, including the Advocate General of the European Court of Justice in the Eurofood case and by the appelate courts of Austria in Re: Stojevic. It is a must-have reference work for lawyers advising on insolvencies with an international element and provides valuable resource in the run up to implementation of the amended Regulation in 2017.