Smith & Hogan's Text, Cases and Materials on Criminal Law 11th ed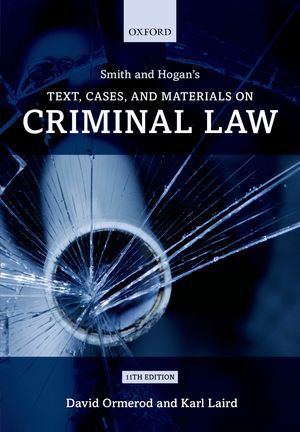 ISBN13: 9780199694884
Published: July 2014
Publisher: Oxford University Press
Country of Publication: UK
Format: Paperback
Price: Out of print

Smith and Hogan Criminal Law: Text and Materials is an essential, accessible guide to the criminal law. The eminently clear text that is the hallmark of the Smith & Hogan approach is supplemented by extracts from all of the key criminal law cases, together with other essential materials from statutes, reports, and articles.
Introductory notes, commentary, summaries, and questions help students to contextualise the materials and to apply the law confidently, gaining an in-depth insight into the problems that the law poses and faces.
For the eleventh edition the contents of the book have been substantially revised and restructured to present the materials in an order that closely matches the structure of contemporary courses on criminal law. The overall approach the book takes has been adjusted to include significantly more explanatory text, thus ensuring the book is suitable for use as a core textbook.
The latest legislation and all of the recent cases that continue to shape the law are included, providing the law student with everything they need to develop a thorough understanding of the key cases and the legal principles that they illustrate.
New to this edition:
The contents have been thoroughly revised and restructured, removing obsolete material in favour of coverage of the latest and most relevant case law, presented in a logical and progressive order to develop students' understanding
Each chapter is supported by a concluding summary and wider range of questions of varying difficulty and focus, helping students to build on their knowledge of the law through its application and rigorous testing
The chapter on accessorial liability has been significantly revised to incorporate not only the most recent case law, but to present it in an accessible fashion, aiding students' understanding of this complex topic
Fully updated to cover the latest developments in criminal law, including, for example: the new partial defences of loss of self control and diminished responsibility, and the cases analysing them; the Supreme Court's analysis of accessorial liability in Gnango; the key cases considering the offences contained in Part 2 of the Serious Crime Act 2007; all the cases considering whether deception vitiates consent in the context of s. 74 of the Sexual Offences Act 2003; the changes made to self-defence by both the Legal Aid, Sentencing and Punishment of Offenders Act 2012 and the Crime and Courts Act 2013, and the cases considering what impact they have had; the most recent cases clarifying key elements of the Fraud Act 2006;