Popular Punishment: On the Normative Significance of Public Opinion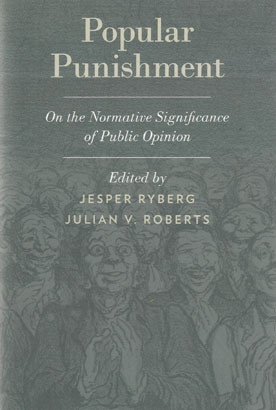 ISBN13: 9780199941377
Published: July 2014
Publisher: Oxford University Press
Country of Publication: UK
Format: Hardback
Price: £52.00

Despatched in 5 to 7 days.
Should public opinion determine-or even influence-sentencing policy and practice? Should the punishment of criminal offenders reflect what the public regards as appropriate?
These deceptively simple questions conceal complex theoretical and methodological challenges to the administration of punishment. In the West, politicians have often answered these questions in the affirmative; penal reforms have been justified with direct reference to the attitudes of the public.
This is why the contention that politicians should bridge the gap between the public and criminal justice practice has widespread resonance. Criminal law scholars, for their part, have often been more reluctant to accept public input in penal practice, and some have even held that the idea of consulting public opinion constitutes a populist approach to punishment.
The purpose of this book is to examine the moral significance of public opinion for penal theory and practice. For the first time in a single volume the editors, Jesper Ryberg and Julian V. Roberts, have assembled a number of respected criminologists, philosphers, and legal theorists to address the various aspects of why and how public opinion should be reflected in the way the criminal justice system deals with criminals.
The chapters address the myriad complexities surrounding this issue by first weighing the justifications for incorporating public views into punishment practices and then considering the various ways this might be achieved through juries, prosecutors, restoratifve justice programs, and other means.