The Trial of Annie Besant and Roger Bradlaugh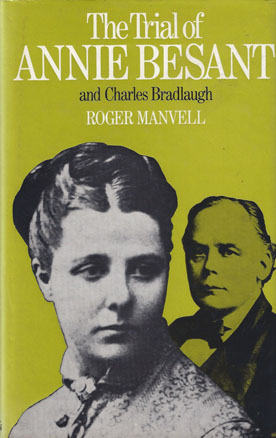 ISBN13: 9780236400058
ISBN: 0236400053
Published: October 1976
Publisher: Elek Books Ltd
Country of Publication: UK
Format: Hardback
Price: £8.00
(Second Hand)

Out of Print
In April 1877 Annie Besant, the estranged wife of a Church of England clergyman, stood trial in London, in a cause celebre that revealed the full depths of Victorian prejudice before an international audience, for publishing an 'obscene libel', a pamphlet advocating family planning and describing current methods of contraception in detail.
Her co-defendant was the famous free thinker Charles Bradlaugh. It was an open secret that the two were in love. The case was heard before the Lord Chief Justice, and the prosecution was conducted by the Solicitor General. But Charles Bradlaugh and Annie Besant chose to conduct their own defence unaided by counsel.
Roger Manvell draws on the verbatim record of this unique trial, which has never been reprinted since the r87os, to tell his story, providing a full and exciting account of one of the most celebrated and courageous stands ever taken in the struggle for the freedom of the press and the right of ordinary people to have access to knowledge in matters of deep public concern, even though the facts involved deeply offended the moral conventions and susceptibilities of the period.
The trial, as this book shows, uncovered the appalling social conditions existing in Victorian England, and its outcome was a milestone in the history of women's liberation from enslavement to uncontrolled child-bearing.
The trial was also a climax in the relationship between Bradlaugh and Annie, and Roger Manvell has written what is as much a biographical portrayal of these two prominent personalities in the history of nineteenth-century England as it is a lucid and fascinating study of how British justice functioned when challenged by these two formidable contestants.