The Ordeal of Philip Yale Drew: A Real Life Murder Melodrama in 3 Acts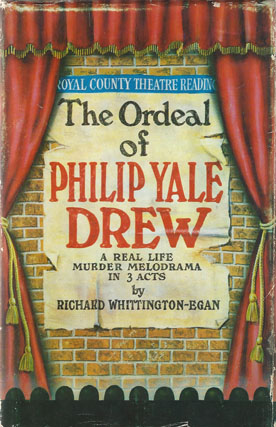 ISBN13: 9780245597305
ISBN: 0245597301
Published: July 1972
Publisher: George G. Harrap & Co. Ltd
Country of Publication: UK
Format: Hardback
Price: £10.00
(Second Hand)

Out of Print
The story of how a popular actor suddenly found himself the number one suspect in the murder of a Reading tobacconist is both criminologically important and humanly fascinating. Important because the inquest took such a form that the resulting public outcry led to Parliamentary action against the growing and legally unsatisfactory process of 'trial by coroner'.
Fascinating because it is a story of triumph and suffering swaddled in the richly nostalgic atmosphere of the old theatre. The verdict was greeted by scenes of wild rejoicing. Thousands of people lined Drew's route from the coroner's court to his hotel, cheering, weeping and showering flowers on their hero of the moment.
But that October day in 1929 was the beginning of the end for the actor. From then on his fortunes went steadily downwards until, before his death alone and destitute - he was reduced to selling newspapers outside those very theatres where he had once starred.
Richard Whittington-Egan has spent several years researching this case and his book is the onlyfull-length account of it ever written. He is unique in having had the full co-operation of the surviving members of Drew's family, as well as being the first to be granted interviews by the coroner before whom Drew appeared, the Scotland Yard detective who hunted the killer of Alfred Oliver, the woman who discovered the murdered man, the doctor who carried out the post-mortem on Drew and many others closely connected with the case.
He also had access to a mass of private papers and from the analysis of all this material he reaches a firm conclusion in this book regarding the role Philip Yale Drew played in the events surrounding the murder.