The Affair: The Case of Alfred Dreyfus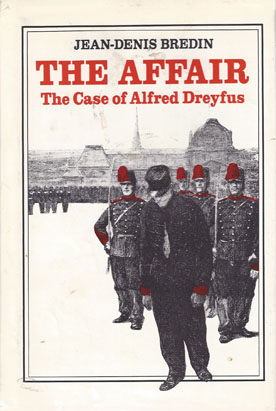 ISBN13: 9780283994432
ISBN: 0283994436
Published: January 1987
Publisher: Sidgwick & Jackson
Country of Publication: UK
Format: Hardback
Price: Out of print

Out of Print
Translated from the French by Jeffrey Mehlman
With a historian's thoroughness and a novelist's skill, Jean-Denis Bredin presents here the most comprehensive, sensitive, and balanced account to date of the Dreyfus Affair, the celebrated scandal that rocked nineteenth century France and whose reverberations are still felt today.
On an autumn morning in 1894, Captain Alfred Dreyfus was summoned to appear for a routine inspection; instead, as he took down a letter dictated by a senior officer, he was summarily accused of high treason. So began a twelve-year series of events that included his imprisonment on Devil's Island, the discovery and cover-up of numerous forgeries, the publication of Emile Zola's passionate J'Accuse the Rennes retrial, and the pardon and final rehabilitation of 1906.
As the Dreyfus case turned into the Affair the history of a single military career came to reflect basic divisions within the society in which it took place: an obsession with espionage in a France recently defeated by the German Army; patriotic sentiment elevated to the status of doctrine; anti-Semitic prejudice transformed into a veritable furor; the cult of the Army and hopes for martial revenge; and the place of traditional values in a country still recoiling from the turbulence of the French Revolution in 1789.
With precision and insight,Jean-Denis Bredin defines these attitudes at the turn of the century as they played themselves out in the life of one man, and examines their legacy today.