The Royal Baccarat Scandal 2nd ed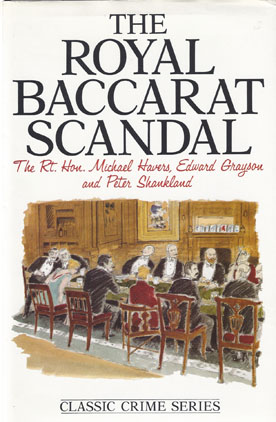 ISBN13: 9780285628526
ISBN: 0285628526
Published: May 1988
Publisher: Souvenir Press
Country of Publication: UK
Format: Hardback
Price: Out of print

Out of Print
In September 1890, during the St Leger Week at Doncaster Races, a house party gathered at Tranby Croft near Hull, of whom the guest of honour was the Prince of Wales (later Edward VII). On 10th September, as the party prepared to change for dinner, Lieutenant Colonel Sir William Gordon-Cumming, a distinguished soldier and personal friend of the Prince, was accused by his fellow guests of having cheated at baccarat: a criminal offence. He was given an ultimatum: to sign a document swearing never to play cards, or to face public denunciation on Doncaster Racecourse next morning.
Day after day, as the case proceeded, crowds thronged outside the Law Courts to watch the smart carriages roll up; fashionable ladies filled one side of the judge's bench, and on the other sat the Prince of Wales, close to the witness-box in which, for the first time in 300 years, an heir-apparent to the throne was to take the oath and give evidence.
Did Gordon-Cumming cheat during those evenings of baccarat at Tranby Croft? No one has ever been able to explain why this scion of an ancient family, friend of the Prince of Wales for twenty years, should apparently have swindled him out of a few pounds he did not need.
Drawing on previously unpublished but vital documents, including letters in the Royal Archives, the authors have been able to make a detailed re-examination of this amazing and controversial case. Their conclusions, surprising and unexpected, throw a startling new light on a trial that rocked Victorian England.