Memoirs of a Libel Lawyer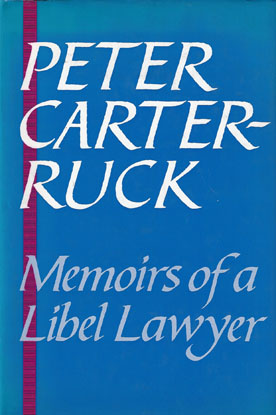 ISBN13: 9780297810223
ISBN: 0297810227
Published: June 1990
Publisher: Weidenfield & Nicolson
Country of Publication: UK
Format: Hardback
Price: Out of print

Out of Print
Memoirs of a Libel Lawyer is an entertaining tale of libel. It is also the story of a distinguished solicitor and a perceptive and critical observer of the legal scene.
For more than forty years Peter Carter-Ruck has been Britain's best-known and most respected libel lawyer. His clients have included some of the most eminent figures from many walks of life - politicians and publishers, film makers and journalists, ambassadors and actors, lawyers and entertainers. He has played an important part in many of the causes celebres of recent times.
But for Peter Carter-Ruck the interest of his particular branch of the law is not just the colourful nature of the cases in which he has been involved. He has always felt a keen sense of justice and for him libel cases are as often about justice and humanity as the technicalities of the law. He is as proud of having acted to prevent the ruin of a man's reputation for the sake of a £10 fine as he is of getting Private Eye to withdraw some particularly unpleasant libel.
Memoirs of a Libel Lawyer provides a vivid, behind-the-scenes look at the fascinating world of defamation. From his unique vantage point Peter Carter- Ruck reveals the prodigious work, tactics and background manoeuvres that have brought him his famous victories. The many stories he has to tell, often humorous, always highly revealing of human frailties, discover a man who has had a real influence on the way in which people can be protected from unwarranted intrusion by the media.