International Law and Agroecological Husbandry: Building Legal Foundations for a New Agriculture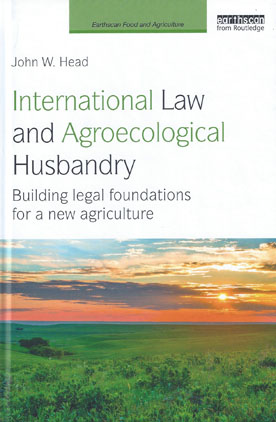 ISBN13: 9780367029876
Published: January 2019
Publisher: Routledge
Country of Publication: UK
Format: Paperback (Hardback in 2016)
Price: £39.99

Despatched in 4 to 6 days.
Remarkable advances are being made in life science and agricultural research to reform and increase agricultural production, particularly with regard to staple grain and legume crops.
However, advances in science may be insufficient to ensure that these possibilities for greater food security are realised in practice and in a sustainable way. This book shows how these can only be achieved through changes in legal instruments and institutions at the global level.
Interdisciplinary in character, the book draws from a range of issues involving agricultural innovation, international legal history and principles, treaty commitments, global institutions, and environmental challenges such as climate change, to propose broad legal changes for transforming global agriculture.
It first shows how modern extractive agriculture is unsustainable on economic, environmental, and social grounds. It then examines the potential for natural-systems agriculture (especially perennial-polyculture systems) for overcoming the deficiencies of modern extractive agriculture, especially to offset climate change.
Finally it analyses closely the legal innovations that can be adopted at national and international levels to facilitate a transition from modern extractive agriculture to a system based more on ecological principles. In particular the author argues for the creation of a Global Convention on Agroecology.