Laytime and Demurrage 8th ed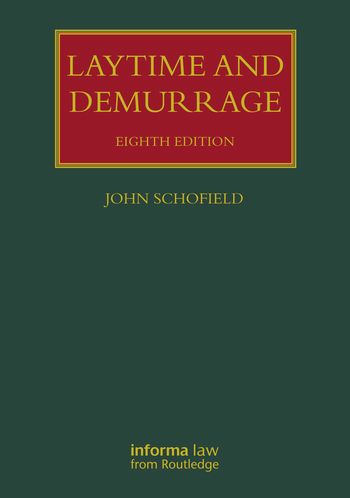 ISBN13: 9780367708368
Published: October 2021
Publisher: Informa Law from Routledge
Country of Publication: UK
Format: Hardback
Price: £445.00

Laytime and Demurrage is the leading authority for all queries pertaining to this vital aspect of maritime law. It has continued to offer reliable, authoritative, and in-depth analysis since the first edition published in 1986.
Praised for its unrivalled coverage and lucid writing style, this book provides a comprehensive overview of all aspects of laytime and demurrage, tracing the development of the law from its origins in the nineteenth century right up to the present day. The author delivers an in-depth analysis of both fixed and customary laytime clauses, the rules relating to commencement of laytime in berth, dock and port charters, and discusses under which circumstances laytime can be suspended. Furthermore, it analyses demurrage rules and vital issues such as despatch, detention and frustration.
This eighth edition includes all key judicial and arbitral decisions reported since the seventh edition published in 2016. It also covers suffixes in connection with laytime measured in terms of Working days and Weather Working Days, and disputes arising from tender of NORs at the end of the sea passage.
Laytime and Demurrage is an invaluable guide for both legal practitioners and maritime professionals worldwide, including commodity traders and brokers, shipping companies, P&I Clubs, shipowners, charterers, and arbitrators.