The Mild Murderer: The True Story of the Dr Crippen Case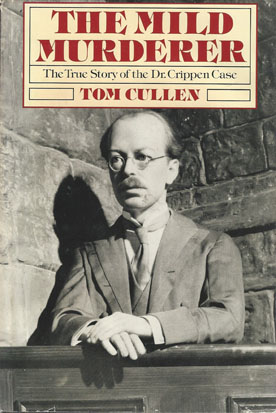 ISBN13: 9780395257760
ISBN: 039525776X
Published: July 1977
Publisher: Houghton Mifflin Co
Country of Publication: USA
Format: Hardback
Price: £10.00
(Second Hand)

OUt of Print
In 1910 Dr. Hawley Harvey Crippen poisoned his wife (known by her stage name Belle Elmore), mutilated and buried her remains in the coal cellar, and fled London with his mistress-secretary, Miss Ethel Le Neve. Their capture, after a breathtaking chase across the Atlantic, was credited to wireless telegraphy, used for the first time in fighting crime.
The hue and cry raised worldwide as the fugitives fled across Europe makes the case high drama, as does the transformation in Crippen himself Thanks to his love for Miss Le Neve, he changed from a cringing coward to a brave and resourceful man willing to risk his life for his mistress.
Tom Cullen's reconstruction of the crime, the chase, and the trial provide an unusual portrait of middle-class Edwardian society. The characters in the tragedy - from the Scotland Yard detective who befriended Crippen after arresting him, to the landlady who thought Crippen "one of the nicest men" she'd ever met, to the ladies of the Music Hall Ladies' Guild relentlessly tracking Crippen on both sides of the Atlantic for the sake of their murdered friend Belle - are as distinctively British as the music hall background against which the story unfolds. The reader will agree with Alfred Hitchcock that when it comes to a murder case, the British are hard to beat.
Until recently the London-based correspondent for an American news syndicate, TOM CULLEN got his early training as a crime reporter in Los Angeles. He is a member of the Crime Writers' Association and lives in London, where he pursues his interests of history and biography.