Spencer Bower, Turner & Sutton: The Law Relating to Actionable Non-Disclosure 2nd ed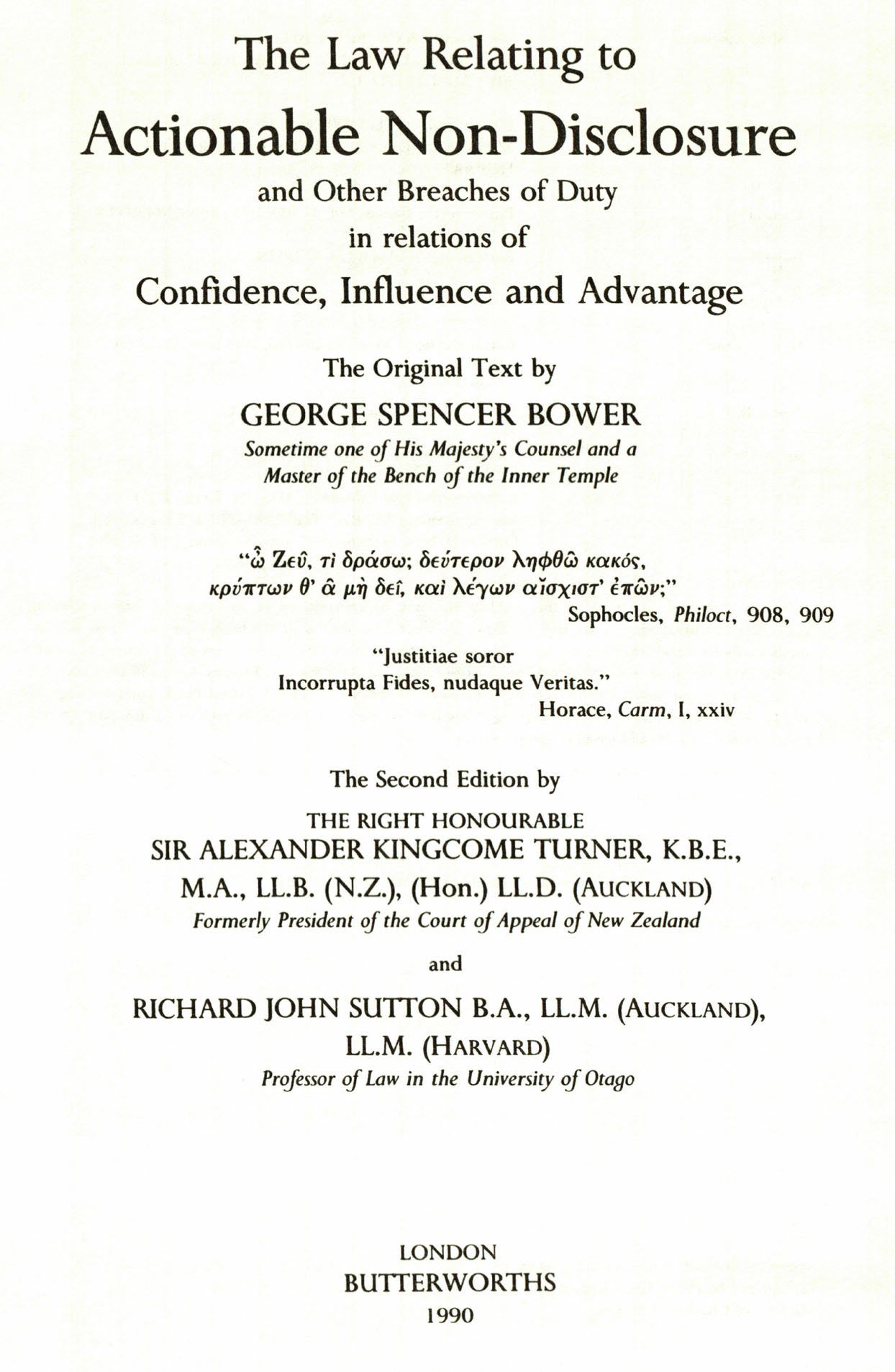 ISBN13: 9780406381804
ISBN: 0406381801
Published: November 1990
Publisher: LexisNexis Butterworths
Country of Publication: UK
Format: Hardback
Price: £125.00
(Second Hand)

Spencer-Bowyer's Actionable Non-Disclosure was published in 1915 and was the third of a remarkable series of classics the author wrote.
There has never been a second edition of this book and after 70 years, many passages of the text have required drastic re-writing in view of the volume of case law by the co-authors Turner and Sutton.
There are however, considerable passages which still fully retain their original zest and value, and the authors have not attempted in these places, to re-write in their own words what Spencer-Bowyer said so well in his. One of the main difficulties has been the fact the material included in this work is not readily classifiable as all belonging to one subject.
The text as a second edition gives recognitions to these differences and falls into two very distinct halves, one on the duty of disclosure arising in the negotiation of contracts uberrimae fidei, the other on disclosure as between persons standing in relations of confidence, influence or advantage one to the other.
These two classes of duties of 'non-disclosure' exhibit many dissimilarities, and the question arises, how did these two topics ever come to be dealt with in one book? The answer is a historical one; Spencer Bowyer put them both into one book, and this volume is a new edition of that work.
The Law Relating to
Actionable Non-Disclosure
and Other Breaches of Duty
In Relation of
Confidence, Influence and Advantage
The Original Text by
George Spencer Bower
Sometime one of His Majesty's Counsel and a
Master of the Bench of the Inner Temple
The Second Edition by
The Right Honourable
Sir Alexander Kingcome Turner K.B.E.
Formerly President of the Court of Appeal of New Zealand
and
Richard John Sutton B.A.; LL.M. (Auckland)
Professor of Law in the University of Otago
London
Butterworths
1990
Same book as ISBN: 9781845925130