Meagher, Gummow & Lehane's Equity: Doctrines & Remedies 5th ed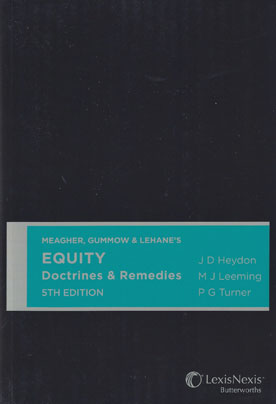 ISBN13: 9780409332254
Published: December 2014
Publisher: LexisNexis Australia
Country of Publication: Australia
Format: Hardback
Price: £232.00

Usually despatched in 1 to 3 weeks.
Meagher, Gummow and Lehane's Equity: Doctrines & Remedies has become the authoritative work on equity in Australia and a leading text in the common law world, presenting a scholarly analysis of the principles of equity by reference to the leading cases and statutory provisions.
This new edition includes analysis of developments in Australia and the common law world over the past 12 years. It deals with all fundamental equitable doctrines and remedies, save for trusts, and covers the development of equity and its history in the United Kingdom and Australia, including the effects of the Judicature system.
Meagher, Gummow and Lehane's Equity: Doctrines and Remedies has been described as "a most substantial and distinguished contribution to the literature of Equity" (Law Quarterly Review), and as exhibiting "a high standard in the articulation and explanation of equitable doctrines, and in the discussion of equitable remedies" (Australian Law Journal).
Few if any Australian law books have carved so significant a niche in legal publishing. This work is an essential text for law practitioners and students.
This text is part of the LexisNexis Black and Silver Series.
Features:
Highly respected and regarded author team.
Regarded as authoritative amongst practitioners and the judiciary and has an established reputation as the definitive work on this topic.
Comprehensive and thorough examination of equity