The TRIPS Agreement: Drafting History and Analysis 4th ed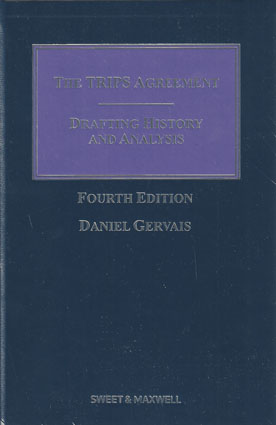 ISBN13: 9780414023130
Published: December 2012
Publisher: Sweet & Maxwell Ltd
Country of Publication: UK
Format: Hardback
Price: Out of print

This acclaimed work provides practitioners and academics with a complete set of tools for understanding the trade rules and intellectual property concepts that make up the TRIPS Agreement.
This new edition is updated to reflect dispute-settlement panel reports, the Anti- Counterfeiting Trade Agreement (ACTA) and other developments, including the fate of the Doha Round.
The text is split into three parts discussing and analysing the TRIPS Agreement. Part 1 describes the development of the TRIPS Agreement, Part 2 is an exhaustive commentary on all 79 Articles of the Agreement, and Part 3 reproduces legislation, agreements and decisions that a practitioner might need to understand it.
Provides a complete overview of the TRIPS Agreement in one comprehensive volume
Offers a unique insider perspective as the author was involved with the TRIPS Agreement negotiations
Traces the development of the TRIPS Agreement, explaining the political, commercial and legal forces that have shaped its evolution
Presents early versions of the TRIPS text to chart the evolution of the final Agreement
Sets out an annotated version of the Agreement, providing a detailed explanation of each of its 79 Articles
Demonstrates the effect of the TRIPS Agreement through analysis of recent cases
Reproduces all related treaties and legislation
Analyses bilateral and regional agreements based on TRIPS explaining their impact on practitioners working in countries party to them
Discusses the likely future impact of TRIPS on the IP framework