Conflicts of Interest 4th ed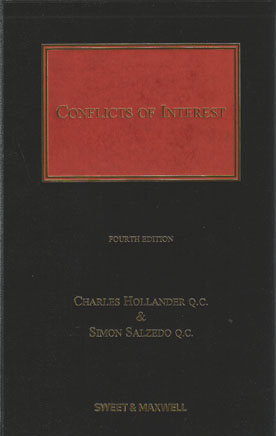 ISBN13: 9780414023390
Published: December 2011
Publisher: Sweet & Maxwell Ltd
Country of Publication: UK
Format: Hardback
Price: Out of print

The new 4th edition of this ground breaking title continues to provide an established, reliable guide to the law relating to conflicts of interest. It looks at the impact of conflicts of interest on a range of professional sectors, assesses how each can be affected and presents approaches that can be used in the resolution process.
Fully updated, this new edition includes coverage of the Law Society Rules, updated UK case law and an overview of this complex area in Commonwealth jurisdictions.
STRATEGIC APPROACH
Conflict of Interests examines strategies for managing and assessing the spectrum of conflict situations, including those arising from takeovers and the issue of judicial conflicts. By dealing with each version you will have a complete and practical guide to the prevention and resolution of conflicts. This title seeks to give you the complete view you need on all the issues. It aims to minimize time and expense, while maximizing the protection of the reputation of the parties involved.
BREAKING DOWN BARRIERS
This established work is the ultimate reference for any solicitors and barristers involved in commercial or litigation fields of law. It offers expert guidance on the intricacies and nuances of information barriers and how best to deal with and apply them. This work acts as an accessible source of information on the components, features, uses and limitations of information barriers.
Provides expanded coverage of judicial conflicts in response to the variety and frequency of modern day judicial challenges
Includes a chapter covering arbitration conflicts which covers the increasing issue that arbitrators and barristers may practice from the same chambers and increasingly appear as judge and advocate in the same case
Both chapters on fiduciary duties and litigating conflicts have been significantly rewritten and updated to reflect changes in the law
Includes the new code of conduct from the Solicitors' Regulation Authority