McGregor on Damages 18th ed: 3rd Supplement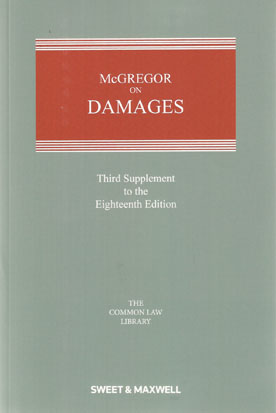 ISBN13: 9780414024427
Published: November 2012
Publisher: Sweet & Maxwell Ltd
Country of Publication: UK
Format: Paperback
Price: Out of print

McGregor on Damages is the standard work and the leading authority on the law of damages and it has been for nearly 150 years, and is often cited by the courts.
It provides detailed explanation of how the general principles of damages apply to particular cases through analysis of case law. It includes coverage of general principles, heads of damage, damages in contract and tort, human rights and procedure.
The 3rd Supplement to the 18th Edition brings the mainwork and others supplements completely up to date with the latest case law and accompanying commentary.
New cases include:-
Newman v Framewood Manor Management Co Ltd [2012] EWCA Civ 159
Herrmann v Withers LLP [2012] EWHC 1492, Ch
Edwards v Chesterfield Royal Hospital NHS Foundation Trust [2012] 2 W.L.R. 55, SC
Simmons v Castle [2012] EWCA Civ 1039
Isabella Shipowner SA v Shagang Shipping Co Ltd [2012] 2 Lloyd's Rep.61
Activa DPS Europe SARL v Pressure Seal Solutions Ltd [2012] EWCA Civ 943
Sayce v TNT (UK) Ltd [2012] 1 W.L.R. 1261
Deutsche Bank AG v Total Global Steel Ltd [2012] EWHC 1201 (Comm)
Herrmann v Withers LLP [2012] EWHC 1492
Rubenstein v HSBC Bank Plc [2012] P.N.L.R.
Leofelis SA v Lonsdale Sports Limited [2012] EWHC 485
R. (on the application of Moussaoui) v Secretary of State for the Home Department [2012] EWHC 126 (Admin)
2 Travel Group Plc v Cardiff City Transport Services Ltd [2012] C.A.T.19.
Kettel v Bloomfield Ltd [2012] EWHC 1422, Ch.
Dobson v Thames Water Utilities Ltd [2012] EWHC 986 (TCC)
Attrill v Dresdner Kleinwort Limited [2012] EWHC 1468, QB
Howard-Jones v Tate [2012] 2 All E.R.369, CA
Newman v Framewood Manor Management Co Ltd [2012] EWCA Civ 15
Brit Inns Ltd v BDW Trading Limited [2012] EWHC 2143 (TCC)
Greenglade Estates Ltd v Chana [2012] EWHC 1913, Ch
Coles v Hetherton [2012] EWHC 1599 (Comm)
Enfield London Borough Council v Outdoor Plus Ltd [2012] EWCA Civ 608
Woodward v Leeds Teaching Hospitals Trust [2012] EWHC 2167, QB
Oxborrow v West Sussex Hospitals NHS Trust [2012] EWHC 1010, QB
RAR v GGC [2012] EWHC 2338, QB
Cairns v Modi [2012] EWHC 756, QB
KC v MGN Ltd [2012] EWHC 483
Force India Formula One Team Ltd v 1 Malaysia Racing Team SDN BHD [2012] EWHC 616, Ch
Fabio Perini SPA v LPC Group Plc [2012] EWHC 911, Ch
The Magic Seeder Co Ltd v Hamble Distribution Ltd [2012] EWPCC9