World Copyright Law 4th ed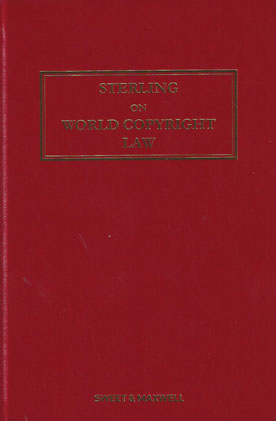 ISBN13: 9780414024618
Published: December 2015
Publisher: Sweet & Maxwell Ltd
Country of Publication: UK
Format: Hardback
Special Offer: £298.40
(Usual price £373.00)
World Copyright Law provides a comprehensive guide to the whole field of national, international and regional copyright law, drawing together a huge range of material in one volume.
It combines important reference materials with detailed discussion of the major features and trends in international copyright law.
It enables the reader to compare easily the copyright protection in different parts of the world, understand current problems in the law, and assess the impact of modern technological developments in national, international and regional systems of protection.
A complete overview of world copyright law in one convenient volume
Sets out comparative summaries of international and regional standards of protection
Offers expert commentary on the key conventions, treaties and agreements
Refers to over 700 cases from more than 20 jurisdictions, with particular focus on cases of international interest
Provides extensive reference materials: international and regional instruments, reference list of national laws and supplementary material, and key historic documents
Examines recent developments associated with the internet, including peer-to-peer file sharing, social media and user generated content, piracy, orphan works and online libraries
Includes a glossary of legal and technical copyright terms used around the world