Bowstead & Reynolds On Agency 20th ed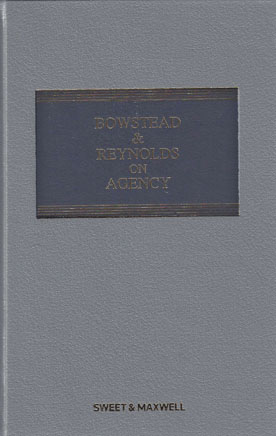 ISBN13: 9780414028302
Published: September 2014
Publisher: Sweet & Maxwell Ltd
Country of Publication: UK
Format: Hardback
Price: Out of print

Bowstead and Reynolds on Agency is an essential reference source for all commercial practitioners; both barristers and solicitors. Frequently cited in courts both in the United Kingdom and elsewhere in the Commonwealth.
This established title covers the role of both agent and principal in contract, tort, commercial, company and property law, it combines articles, commentary and illustrations that will give you a better understanding of the law.
Part of the long-established Common Law Library, this new edition incorporates recent changes and developments in law and practice integrated into each chapter.
Highlighted new commentary includes:-
Objectivity and the onus of proof in relation to the concept of authority and ratification
Apparent authority from a course of dealing
Being put on inquiry as to defects in an agent's authority
Restitutionary and accessory liabilities of principals
Ministerial agents
Appointment of agents by mentally incapacitated persons
Duties of sub-agents owed to the principal
Agents who work for competing principals
Agents' conflicts of interest, and duties of confidentiality
Proprietary remedies for breach of fiduciary duty
Agents' liability to third parties
The agency powers of trustees
Ratification by companies
Updating on "commercial agents"
Revision of material on the conflict of laws
Coverage:-


Provides analysis of case law with a range, depth, and authority fitting to this book's Common Law Library branding
Examines the creation of agency
Provides a comprehensive treatment of the authority of agents, including issues of onus of proof
Covers the application of agency law to companies; and the interrelationship of agency law and the law of trusts
Includes new material on the application of agency of necessity to the conduct of liquidators and administrators
Analyses the equitable duties of agents and sub-agents owed to principals
Covers the other duties of agents towards their principals
Examines the relations between principals and third parties based on apparent authority
Covers the restitutionary quantum meruit; and agents' liens
Addresses agents' liability in tort to third parties; procurement of and other involvement in the wrongs of others
Updates the material onbreach of warranty of authority
Covers the effect of a principal's mental incapacity on agency, and the effect of liquidation and dissolution of companies on agency
Provides coverage of the law relating to commercial agents
Addresses the relevant law on the conflict of laws