Medical Negligence 5th ed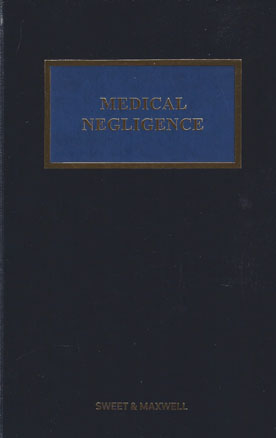 ISBN13: 9780414028487
Published: December 2017
Publisher: Sweet & Maxwell Ltd
Country of Publication: UK
Format: Hardback
Price: Out of print

Medical Negligence provides a comprehensive and authoritative analysis of the potential legal liabilities of healthcare professionals and hospitals arising out of the provision of healthcare.
The principal focus is on the law of negligence as it applies in the medical context, but the book also includes extensive coverage of consent to medical treatment, defective products, confidentiality, the liability of hospitals, defences and limitation, the principles applied to the assessment damages, and procedural issues.
This essential title is recognised as an authority in the area of medical negligence and provides insight into developing areas of the law:-
Analyses current case law and interprets applicable legislation
Provides clear, concise analysis applicable to generalist and specialist practitioners
Provides authoritative guidance
New in this edition:
Fully up-to-date, including discussion of relevant statutory provisions and Commonwealth case law
Detailed discussion of developing caselaw on the Mental Capacity Act 2005
Chapter on informed consent rewritten to take account of the Supreme Court decision in Montgomery v
Lanarkshire Health Board
Discussion of the emerging tort of misuse of private information
Full reference to relevant professional guidance issued by the General Medical Council (Good Medical
Practice, 2013 and Confidentiality: good practice in handling patient information, 2017)
Revised system of headings/sub-headings to provide easier navigation of the text
Appendices
Includes Appendices on:-


NHS Indemnity
Pre-Action Protocol for the Resolution of Clinical Disputes
Glossary of Medical Terms
Rely on the experts
Written by Michael A. Jones, Emeritus Professor of Law at the University of Liverpool, with the assistance of John McQuater, Head of Litigation at Atherton Godfrey.
A selection of new cases included:-


Supreme Court/House of Lords/Privy Council:
Montgomery v Lanarkshire Health Board (2015) where the Supreme Court held that the Bolam test should no longer apply to the duty owed by a doctor to disclose information about the risks of proposed medical treatment and its alternatives, adopting in its place the "prudent patient" test
Aintree University Hospitals NHS Foundation Trust v James (2013) SC on the withdrawal of medical treatment being given to patients who lack capacity 
Cheshire West and Chester Council v P (2014) SC on the requirements for a lawful decision to deprive an incapacitated patient of their liberty
Savage v South Essex Partnership NHS Trust (2008) and Rabone v Pennine Care NHS Foundation Trust (2012) on the potential liability under the Human Rights Act of medical professionals dealing with a patient who is at risk of attempting suicide 
Williams v The Bermuda Hospitals Board (2016) where the judicial committee of the Privy Council considered the "material contribution to damage" test of causation in a clinical negligence action
A series of cases dealing with the principles of vicarious liability: Various Claimants v Institute of the
Brothers of the Christian Schools (2012); Mohamud v Wm Morrison Supermarkets Ltd (2016); Cox v Ministry of Justice (2016); and Armes v Nottinghamshire CC (2017) 
Woodland v Swimming Teachers Association (2013) and Armes v Nottinghamshire CC (2017) on an employer's liability in respect of non-delegable duties
A series of cases dealing with the manner in which the Fairchild principle of causation should be applied: Sienkiewicz v Greif (UK) Ltd (2011); Durham v BAI (Run Off) Ltd (2012); and International Energy Group Ltd v Zurich Insurance Plc UK (2015) (holding that the common law rule for apportioning liability based on a defendant's contribution to the risk of developing mesothelioma established in Barker v Corus is still good law)
Gray v Thames Trains Ltd (2009) and Patel v Mirza (2016) on the correct test for the illegality defence AB v Ministry of Defence (2012) on the claimant's "date of knowledge" for the purposes of the Limitation Act 1980
Court of Appeal:-


Farraj v King's Healthcare NHS Trust (2009) on the potential liability of a hospital for the work of an independent laboratory in analysing tissue samples and providing a diagnosis
On liability for psychiatric harm to the relatives of a patient injured by medical negligence: Liverpool Women's Hospital NHS Foundation Trust v Ronayne (2015)
Darnley v Croydon Health Services NHS Trust (2017) on the responsibility of a receptionist in an A&E department who gives incorrect information about waiting times
FB v Rana (2017) on the duty of a senior house officer in an A&E department to take an adequate history (a basic skill which all hospital doctors are expected to possess)
Webster v Burton Hospitals NHS Foundation Trust (2017) on the doctor's duty, where there are two treatment options, to discuss the options and risks with the patient