The White Book Service 2014: Civil Procedure Volumes 1 & 2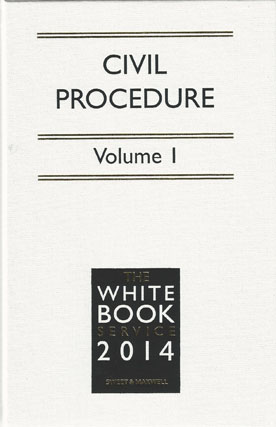 ISBN13: 9780414033641
Published: March 2014
Publisher: Sweet & Maxwell Ltd
Country of Publication: UK
Format: Hardback, 2 Volumes
Price: £195.00
(Second Hand)

The White Book 2014: Available in 7 options
The White Book 2014 provides influence and expert guidance on the Civil Procedure Rules. With over 10,000 cases covered and detailed commentary written by our expert author team, it's everything you need in one simple source.
New and revised content for 2014 includes:-
VOLUME 1
New preface by Lord Justice Jackson on 2013's civil justice reforms
The new Cost Rules and Practice Directions are included alongside the pre-1st April 2013 Cost Rules and Practice Directions where still relevant transitionally
Revised and updated commentary and case law for both post- and pre-1st April 2013 Costs Rules
Updated commentary to Parts 26 and 53 and the Senior Courts Act 1981 following the Civil Procedure (Amendment No.8) Rules 2013
Addition of Part 4 of the Tribunal Procedure (Upper Tribunal) Rules 2008 to commentary on Part 54 in relation to immigration decisions
Practice Direction - Solicitors' Negligence in Right to Buy Cases
VOLUME 2
Procedural Guides are relocated to Volume 2 from Volume 1
Part 78 on European Procedures is relocated to Section 3 in Volume 2
Senior Courts Costs Office Guide 2013
Amendments to the Mercantile Court Guide
New commentary covering the Intellectual Property Enterprise Court and further to IPCom GmbH v HTC Europe Co Ltd
Revised Costs Practice Direction (Supreme Court of the United Kingdom)
Court of Protection - commentary to take account of the Practice Guidance on Committal for Contempt of Court and guidance on the publication of judgments
New Law Society Model Conditional Fee Agreement for use after April 1, 2013
New Bar Council Model Conditional Fee Agreement for use after April 1, 2013 and revised commentary on barristers and litigation funding
The Taking Control of Goods Regulations 2013
The Taking Control of Goods (Fees) Regulations 2014
The
White Book forms CD-ROM
will be published in mid April 2014. It is no longer included as part of the printed Volume 1 or Volumes 1&2
White Book
option and needs to be ordered
seperately...