Business Premises: Possession and Lease Renewal 5th ed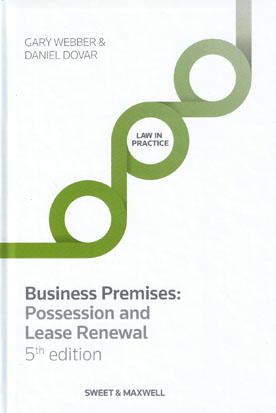 ISBN13: 9780414034358
Published: December 2014
Publisher: Sweet & Maxwell Ltd
Country of Publication: UK
Format: Paperback
Price: Out of print

This manual provides practical, userfriendly guidance on how a landlord or licensor can obtain possession of business premises and how a tenant can oppose such an action or renew the lease.
It gives a clear and authoritative explanation of the law, procedures to adopt, evidence required and orders the court may make – so practitioners can advise with confidence.
It also deals with licences of property in the business context and other arrangements where there is no lease and non-payment of rent.
An ideal "how to" manual – takes readers step-by-step through procedures
Provides clear guidelines on the process and evidence required
Structure of the book mirrors the workflow of practitioners in possession cases
Covers a wide range of subject matter such as forfeiture, termination of tenancies, new tenancies and possession proceedings
Contains specimen letters, forms, draft notices and witness statements throughout the text
Includes statutory extracts in the text and in appendices, providing swift access to all relevant law
Completely up to date with recent case law developments