Cohabitation and Trusts of Land 3rd ed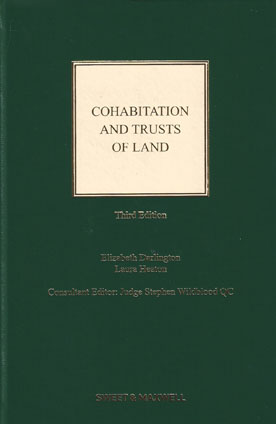 ISBN13: 9780414034969
Published: November 2016
Publisher: Sweet & Maxwell Ltd
Country of Publication: UK
Format: Hardback
Price: £182.00

Cohabitation and Trusts of Land provides practical guidance for family solicitors engaged in property disputes between cohabiting or other unmarried couples.
It explains the key legislation, the Trusts of Land and Appointment of Trustees Act 1996 TLATA), and steers practitioners through all aspects of practice and procedure.
The new edition has been extensively updated and takes account of major new case law, such as Jones v Kernott, as well as the Jackson reforms, includes new chapters on Cohabitation Agreements, intervening in ancillary relief, and disputes between parents and adult children regarding property, and also includes greatly expanded coverage of mediation, occupation orders and personal obligations.
The General Editor is Stephen Wildblood
Explains the legal concepts that apply in unmarried family breakdown situations, including express trusts, resulting trusts and constructive trusts
Clarifies the provisions of the Trusts of Land and Appointment of Trustees Act 1996
Outlines the orders the court can make, who may apply, and what the court must consider
Sets out common procedures for preparing and making applications
Provides sample copies of the relevant forms and precedents, with advice on how to use them
Uses checklists to help ensure nothing is overlooked
Features a practical civil court reference section, written for those practitioners more familiar with the family court
Supplies an easy-to-consult digest of leading cases in this area, including a summary of the main issues involved
Examines awards made to guide practitioners on likely outcomes in particular circumstances
Incorporates major new case law and recent trends in property disputes