The White Book Service 2015: Civil Procedure Volumes 1 & 2 (eBook)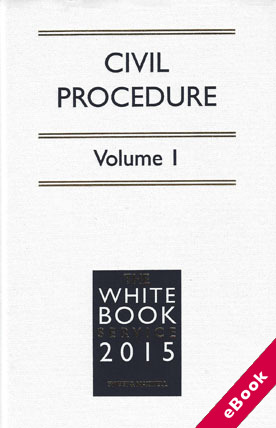 ISBN13: 9780414039544
Published: March 2015
Publisher: Sweet & Maxwell Ltd
Country of Publication: UK
Format: eBook (ProView)
Price: Out of print
The amount of VAT charged may change depending on your location of use.
The sale of some eBooks are restricted to certain countries. To alert you to such restrictions, please select the country of the billing address of your credit or debit card you wish to use for payment.
Sale allowed in
Anguilla
,
Antigua and Barbuda
,
Aruba
,
Austria
,
Bahamas
,
Barbados
,
Belgium
,
Bermuda
,
Bulgaria
,
Cayman Islands
,
Croatia
,
Cuba
,
Cyprus
,
Czech Republic
,
Denmark
,
Dominica
,
Dominican Republic
,
Finland
,
France
,
Germany
,
Gibraltar
,
Greece
,
Grenada
,
Guadeloupe
,
Guernsey
,
Haiti
,
Hungary
,
Ireland
,
Italy
,
Jamaica
,
Jersey
,
Latvia
,
Liechtenstein
,
Lithuania
,
Luxembourg
,
Malta
,
Martinique
,
Montserrat
,
Netherlands
,
Poland
,
Portugal
,
Puerto Rico
,
Romania
,
Saint Kitts and Nevis
,
Saint Lucia
,
Saint Vincent and the Grenadines
,
Slovakia
,
Slovenia
,
Spain
,
Sweden
,
Trinidad and Tobago
,
Turks and Caicos Islands
,
United Kingdom
,
Virgin Islands (British)
,
Virgin Islands (U.S.)
Sorry, due to territorial restrictions applied by the publisher we are unable to supply this eBook to United States.
THE STANDARD IN A NON-STANDARD WORLD
No two cases are the same. While your case could go any way and take any path, the one constant is the White Book. Whether you settle, make it to court, go to appeal or further, make sure you do things right. Standard across the legal market, more judges and lawyers use it than anything else. Why? Not only for the latest version of the rules, but also for the commentary provided by those best placed to advise you on what to do, so you can advise your client on what to do.
What's new in the White Book 2015 Service
The 2nd Cumulative Supplement, May 2015, takes the White book to the 79th CPR update. It ammends a number of Pre-Action Protocols and includes corrections made to six Rules corrected by a previous erratum.
Coverage of forthcoming 2015 Civil Procedure Rule Statutory Instruments and Practice Direction Updates
Amendments made by the Civil Procedure (Amendment no. 8) Rules 2014 (SI 3299/2014) and the 78th CPR Update that bring into force a number of important changes on 6 April 2015
A substituted version of Part 36 on Offers to Settle. Since the rules were substantially amended in 2007 there has been a large amount of case law in respect of the application of the rules to various aspects of settlement. The changes reflect the case law and aim to simplify the rules as far as possible to make them more accessible to court users, particularly litigants in person. Consequential amendments are made to Parts 37, 44, 45, 47 and 52.
A new Part 87 on applications for writ of Habeas Corpus is introduced, part of the ongoing work by the Civil Procedure Rules Committee to transfer the remaining Orders of the Rules of the Supreme Court into the CPR.
A new Section VI is added to Part 74 on the Enforcement of Judgments in Different Jurisdictions which provides for the recognition and enforcement between courts in England and Wales and courts in other EU member states of protection measures. The 78th CPR Update also brings in amendments to corresponding Practice Directions and Pre-Action Protocols.
The 77th CPR Update covers changes to PD7C Production Centre and the Pre-Action Protocol for Low Value Personal Injury Claims
Civil Procedure (Amendment no. 7) Rules 2014 (SI 2948/2014) and the 76th CPR Update to the Practice Directions update Parts 6 on Service of Documents and 74 on Enforcement in Different Jurisdictions to achieve consistency with new EU regulations in relation to the recognition and enforcement of judgments as between courts in England and Wales and courts in other EU Member States (the 'recast' Judgments Regulation)
The
2015 White Book Service
includes up-to-date commentary on significant case law updates:
Relief from sanctions (Rule 3.9): Denton v TH White Ltd following Mitchell v. News Group Newspapers Ltd ; also Durrant v Chief Constable of Avon & Somerset; Thevarajah v Riordan; Chartwell Estate Agents Ltd v Fergies Properties SA; Walsham Chalet Park Ltd v. Tallington Lakes Ltd; Altomart Ltd v Salford Estates; Caliendo v Mishcon de Reya; and R. (Hysaj) v Secretary of State for the Home Department; Disclosure of documents: Smailes v McNally on the sufficiency of the disclosure statement (Rules 31.6, 31.7, 31.9, 31.10); Tchenguiz v Director of Serious Fraud Office (use of disclosed documents in separate proceedings)
Application to commit: Smith v Doncaster Metropolitan Borough Council (consequences of coercive element of sentence ceasing to have purpose); Dar al Arkan Real Estate Development Co v Al Refai (liability of company officer for contempt); Otkritie International Investment Management Ltd v Urumov (recusal of judge in contempt application); Inplayer Ltd v Thorogood (finding of contempt quashed because of procedural errors)
Costs: Dufoo v Tolaini on the Court's discretion as to costs under Rule 44.2; Wagenaar v Weekend Travel Ltd on Qualified One-Way Costs Shifting (Rule 44.13); Secretary of State for Communities & Local Government v Venn
Appeals: Greenwich Millennium Village Ltd v Essex Services Group plc (Rule 52.3 &52.10) and Tchenguiz v Director of the Serious Fraud Office (Rule 52.2 & 52.4)
Your FREE copy of Costs & Funding since the Civil Justice Reforms: Questions & Answers
This short and practical book, produced in conjunction with Practical Law, answers common questions compiled by Practical Law and the authors raised by practitioners on the effect of the 2013 Jackson reforms on the costs of litigation. Topics raised include issues ranging from funding of litigation, case and costs management and proportionality to settlement offers, QOCS and summary assessment.
It is edited by Peter Hurst, formerly Senior Costs Judge, with co-authors District Judge Simon Middleton, Truro Courts of Justice & the County Court at Bodmin, and Roger Mallalieu, Barrister, 4 New Square.