Zamir & Woolf: The Declaratory Judgment 4th ed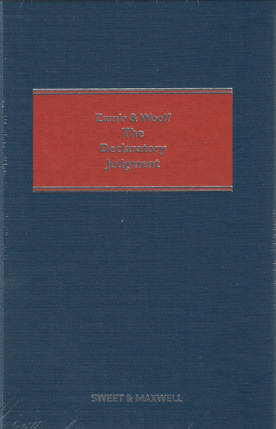 ISBN13: 9780414041356
Published: September 2011
Publisher: Sweet & Maxwell Ltd
Country of Publication: UK
Format: Hardback
Price: £253.00

Given the emphasis of the Civil Procedure Rules on settlement and speedy resolution of disputes, declaratory proceedings are increasingly important.
This edition of the definitive work on the subject explains the wide scope of the declaratory judgment as a public law remedy for both individuals and public bodies and shows how it can be used.
Explains the purpose and remit of this important remedy.
Goes through statute and case law to illustrate when a declaratory judgment can be granted.
Highlights the advantages of using declaratory proceedings.
Shows how to bring a case before the court.
Explains the jurisdiction of the High Court, county courts and tribunals to grant declarations.
Examines in detail who is entitled to bring proceedings for declaratory relief – both claimant and defendant.
Includes a comparative study of the use of the declaratory process in Scotland.
Completely updated in light of amendments to the Civil Procedure Rules and impact of the Human Rights Act 1998.