Theobald on Wills 17th ed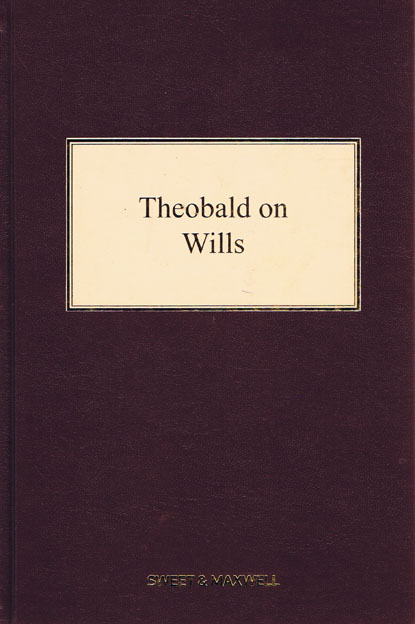 ISBN13: 9780414042940
Published: December 2010
Publisher: Sweet & Maxwell Ltd
Country of Publication: UK
Format: Hardback
Price: £100.00
(Second Hand)

Wildy's Book of the Month: January 2011
The new 17th ed of
Theobald on Wills
contains an unrivalled blend of academic comment and practical advice on the most recent case law, legislation both domestic and European, and authorities affecting all aspects of the law of Wills. Many recent developments are discussed in detail, including the following:-
The effect of the Mental Capacity Act 2005 and recent caselaw on testamentary capacity
Review of recent cases concerning want of knowledge and approval
Recent European and domestic caselaw concerning choice of and conflicts of law
Updated advice on and discussion of family provision
Caselaw on the admission of extrinsic evidence as to construction
Problems arising from and solutions to professional negligence in drafting and executing Wills
The impact of the Perpetuities and Accumulations Act 2009
An overview and full discussion of recent developments in the law relating to constructive trusts and proprietary estoppel
The impact of the Charities Act 2006 on charitable dispositions in Wills, and recent cases
A fully updated section on the construction of Wills, including analysis of the Privy Council opinion in Sammut v Manzi regarding the effect of punctuation and sub-paragraphs on interpretation, and discussion of the possible effect of The Human Rights Act.
The authors have included cross-references where appropriate to the publisher's looseleaf service
Practical Will Precedents
to
Drafting Trusts and Will Trusts
by James Kessler, and to
Brighouse's Precedents of Wills.
The text is therefore both academically rigorous and practically illuminating.