Wisdom's Law of Watercourses 6th ed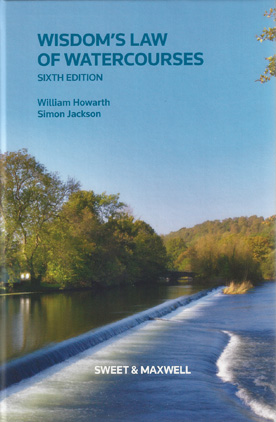 ISBN13: 9780414045040
Published: September 2011
Publisher: Sweet & Maxwell Ltd
Country of Publication: UK
Format: Hardback
Price: £88.00

The sixth edition of Wisdom's Law of Watercourses provides a comprehensive account of the law relating to streams, rivers, estuaries, lakes and related waters within a reasonable compass. It considers general common law characteristics of watercourses and coastal waters, natural and acquired rights of water, artificial watercourses and underground water, ferries, bridges and fisheries. It also covers water regulation and surveys statutes concerned with water management responsibilities, water resources, water pollution, flood defence, and fisheries.
Provides full coverage of the principles of common law on water rights and the statutory requirements relating to water management, water quality, water quantity and recreation and conservation.
Considers in detail developments under the Environment Act 1995, the Water Act 2003, the Marine and Coastal Access Act 2009, the Flood and Water Management Act 2010, the Environmental Permitting Regulations 2010, and the Aquatic Animal Health Regulations 2009.
Discusses recent cases on water rights, fisheries and conservation, including Lovett v Fairclough on the acquisition of fishing rights, the Cambridge Water case on groundwater pollution, and cases relating to the protection of habitats culminating in the Wightlink case.
Includes a new chapter on conservation law in relation to the aquatic environment, with coverage of international conventions, European Union measures and domestic legislation providing protection of freshwater and marine habitats.
Contains a new chapter on European Union water legislation, explaining the requirements of directives concerned with water quality and the measures that have been adopted nationally to implement these directives.