Misrepresentation, Mistake and Non-Disclosure 3rd ed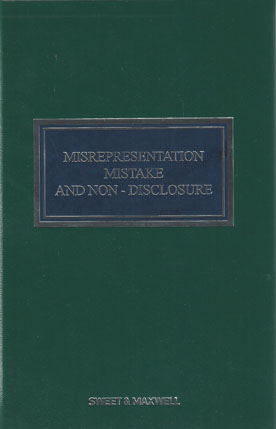 ISBN13: 9780414049550
Published: February 2012
Publisher: Sweet & Maxwell Ltd
Country of Publication: UK
Format: Hardcover
Price: £125.00
(Second Hand)

Contract law can be complex, so understanding the intricacies is crucial in ensuring you can identify when a contract can be challenged and the remedies available.
This authoritative practitioner text fully explains the role of misrepresentation in contract law, and further expands on the role of mistake and non-disclosure in a contractual dispute.
It provides a clear explanation into the definitions and differences between misrepresentation, mistake and non-disclosure, and is structured around remedies available for misrepresentation, mistake and non-disclosure to give practical focus for practitioners.
The new edition is fully updated in relation to both case law and statutory developments, including discussions of areas where points are still unclear or may be further reviewed by the courts or subject to statutory reform.
Includes statutory developments in duties of disclosure such as those in the Consumer Credit (EU Directive) Regulations 2010, the Consumer Credit (Disclosure of Information) Regulations 2010, and the Timeshare, Holiday Products, Resale and Exchange Contracts Regulations 2010
Covers the Consumer Protection from Unfair Trading Regulations 2008
Discusses the Law Commission's review of insurance law, including radical proposals for reform of the remedies for misrepresentation and non-disclosure to be enacted in the Consumer Insurance (Disclosure and Representations) Bill 2011
Includes references to the topic of business protection from the Misleading Marketing Regulations 2008
Includes new case law, such as The Court of Appeal's decision in Conlon v Simms [2006] on the duties of disclosure in forming a partnership and on liability in tort for breach of a duty of disclosure, and a number of cases exploring the scope of damages recoverable in the tort of deceit, such as 4 Eng Ltd v Harper [2008] and Parabola Investments Ltd v Browallia Cal Ltd [2010] on recovery of loss of profits and loss of chance.