Chitty on Contracts 32nd ed: Volumes 1 & 2 with 2nd Supplement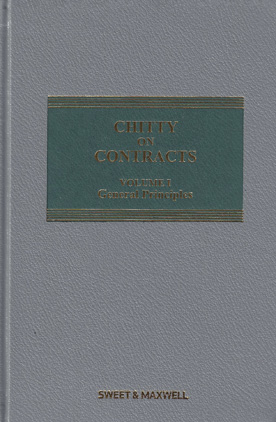 ISBN13: 9780414050716
Published: November 2017
Publisher: Sweet & Maxwell Ltd
Country of Publication: UK
Format: Hardback, 2 Volumes & Supplement
Price: Out of print

Have you considered the book & eBook version? This will give you the confidence of the physical book coupled with the convenience of always having the eBook to hand. Please ask for further details.
Chitty on Contracts is the pre-eminent reference work on contract law in the common law world. It has been used for generations by lawyers as the leading guide to contracts, and is relied on to provide insight and aid in complex areas of the law.
The 2nd Supplement was published in November 2017
The 1st Supplement was published in November 2016
The Main Work was published in November 2015
Volume One covers the
General Principles
of contract law, while Volume Two offers guidance on
Specific Contracts
, namely contractual issues in specific industry sectors.
Presents complete coverage of the law of contract, incorporating extensive reference to relevant legislation and recent case law
Contains interpretation and analysis of general legislation since the last edition
Provides an in-depth examination of actions arising in contract law, including exclusion clauses, estoppel, illegality and public policy, mistake, misrepresentation and non-disclosure, breach of performance
Covers the formation of contract as it effects the Agreement; Consideration, Form, Mistake; Misrepresentation and Duress and Undue Influence
Treats in detail the Capacity of parties
Analyses and comments on the terms of the contract relating to Express and Implied Terms; Exemption Clauses; Unfair Terms in Consumer Contracts; and Arbitration Clauses
Examines Illegality and Public Policy
Under Joint obligations covers in detail the law of contract relating to Third Parties, Assignment;, Death and Bankruptcy
Examines and analyses contract law in relation to performance and discharge, covering Discharge by Agreement; by Frustration; by Breach
Studies remedies for breach of contract, including damages and limitations of actions
Discusses Restitution in relation to contract law
Analyses conflict of laws as if affects contract law
Deals individually with contracts in the following areas of law: agency, arbitration, bailment, bills of exchange and banking, building contracts, carriage by air, carriage by land, construction, credit and security, employment, gaming and wagering, insurance, restrictive agreements and covenants, sale of goods and suretyship
Offers interpretation and advice on the law when disputes arise, or when technical areas need clarification, and when responsibilities, obligations and entitlements need to be established
Supplemented regularly