Kerly's Law of Trade Marks and Trade Names 16th ed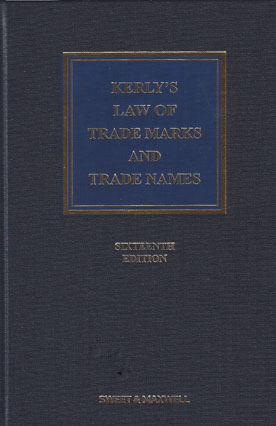 ISBN13: 9780414052017
Published: December 2017
Publisher: Sweet & Maxwell Ltd
Country of Publication: UK
Format: Hardback
Price: Out of print

Kerly's Law of Trade Marks and Trade Names has provided expert guidance on all aspects of UK trade mark law since 1894. Through a mix of insightful commentary and up-to-date analysis of case law and legislation from the UK and Europe, it is the reference for the provision of clear and authoritative advice.
The 16th edition sees a major update with the inclusion of three new chapters on topics including the average consumer, Brexit, and the defining characteristics of trade marks. It also analyses the highly significant European trade mark reforms – the greatest change to trade mark law for 20 years.
Provides the most comprehensive and authoritative guidance on the law of trade marks and trade names in the United Kingdom
Explains core topics of trade mark law: classification, registration (UK and European), enforcement, infringement, and litigation
Detailed analysis of community trade marks, their provisions, extent of protection, and procedural matters
Covers issues of assignment, licensing, merchandising, and franchising
Lays out the absolute and relative grounds for the refusal of registration
Addresses trade mark infringement and outlines a range of defences including limitations on, exclusions from, and statutory.
Some of the key new features of the 16th edition include:


Explains the changes introduced by the European Trade Mark Reform, analysing the key legislation affecting community trade marks and the owners of national trade marks in the EU.
A new chapter dedicated to the average consumer identifying relevant characteristics, factors that influence the level of attention, and discussion of where it is (and is not) deployed.
A new chapter explaining the likely impact of Brexit on registered trade marks which have force in the UK and the effect on owners of EU registered trade marks used primarily in the UK.
A new chapter addressing the meaning of the expression "trade mark," outlining its essential functions and characteristics.