Banking Litigation 4th ed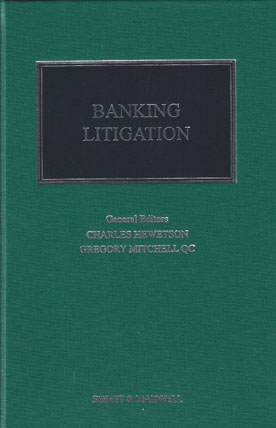 ISBN13: 9780414055322
Published: August 2017
Publisher: Sweet & Maxwell Ltd
Country of Publication: UK
Format: Hardback
Price: £336.00

This fourth edition guides you through the wide range of issues relevant to banking litigation. The authors provide all the information that you need to confidently deal with any dispute.
Banking Litigation addresses the major areas of potential conflict, from disputes with domestic customers to those arising from global custodianship and international banking as well as assisting readers with the formulation of  clear objectives and strategies in banking litigation situations.
As well as addressing new developments in caselaw and regulatory infrastructure, this edition features new chapters on structured product disputes and fintech & technology innovation.
The 4th of edition of Banking Litigation:-
Covers all the major areas of potential conflict, from disputes with domestic customers to those arising from global custodianship and international banking
Gives detailed procedural advice alongside more strategic considerations, helping practitioners respond effectively at all stages of a dispute.
Deals with domestic and international banking litigation
Looks at conflict of laws issues
Advises on strategy in banking litigation
Shows how to identify potentially litigious situations and take preventative measures to avoid litigation
Explains procedure, with extensive analysis of disclosure in banking litigation