The White Book Service 2016: Civil Procedure Volumes 1 & 2 (Book & eBook Pack)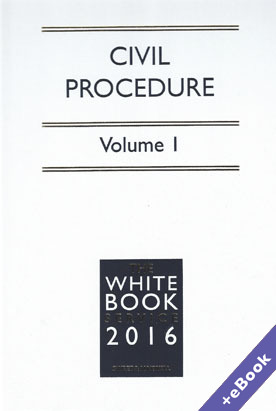 ISBN13: 9780414056749
Published: March 2016
Publisher: Sweet & Maxwell Ltd
Country of Publication: UK
Format: Book & eBook Pack (ProView)
Price: Out of print
The amount of VAT charged may change depending on your location of use.
The sale of some eBooks are restricted to certain countries. To alert you to such restrictions, please select the country of the billing address of your credit or debit card you wish to use for payment.
Sale allowed in
Anguilla
,
Antigua and Barbuda
,
Aruba
,
Austria
,
Bahamas
,
Barbados
,
Belgium
,
Bermuda
,
Bulgaria
,
Cayman Islands
,
Croatia
,
Cuba
,
Cyprus
,
Czech Republic
,
Denmark
,
Dominica
,
Dominican Republic
,
Finland
,
France
,
Germany
,
Gibraltar
,
Greece
,
Grenada
,
Guadeloupe
,
Guernsey
,
Haiti
,
Hungary
,
Ireland
,
Italy
,
Jamaica
,
Jersey
,
Latvia
,
Liechtenstein
,
Lithuania
,
Luxembourg
,
Malta
,
Martinique
,
Montserrat
,
Netherlands
,
Poland
,
Portugal
,
Puerto Rico
,
Romania
,
Saint Kitts and Nevis
,
Saint Lucia
,
Saint Vincent and the Grenadines
,
Slovakia
,
Slovenia
,
Spain
,
Sweden
,
Trinidad and Tobago
,
Turks and Caicos Islands
,
United Kingdom
,
Virgin Islands (British)
,
Virgin Islands (U.S.)
Sorry, due to territorial restrictions applied by the publisher we are unable to supply this eBook to United States.
No two cases are the same. While your case could go any way and take any path, the one constant is the White Book. Whether you settle, make it to court, go to appeal or further, make sure you do things right. Standard across the legal market, more judges and lawyers use it than anything else. Why? Not only for the latest version of the rules, but also for the commentary provided by those best placed to advise you on what to do, so you can advise your client on what to do.
The 2016 White Book Service includes:
Coverage of forthcoming Civil Procedure Rule Statutory Instruments and Practice Direction Updates in 2016
The Civil Procedure (Amendment no.5) Rules 2015 (SI 2015/1881) and the 82nd CPR Update, which together make changes to Part 26 (Case Management) and Practice Direction 2C (Starting Proceedings in the County Court), with new versions of Practice Direction 5B (Electronic Communication and Filing of Documents by Email) and the Electronic Working Scheme Pilot (Practice Direction 51O)
Amendments made by the Civil Jurisdiction and Judgments (Hague Convention on Choice of Court Agreements 2005) Regulations 2015 (SI 2015/1644)
A restructure of the commentary to Part 6, Section IV (Service of the Claim Form and other Documents out of the Jurisdiction), with the inclusion of a specific section of commentary on rules of jurisdiction and the Judgments Regulation (Recast)
Further updates to the commentary of Part 36 (Offers to Settle) following the extensive reform of Part 36 in 2015 and the inclusion of a selection of the pre-April 2015 Rules
A brand new specific section on Employment Tribunals and Costs
New commentary on Part 63A, the Financial List
Revised Queen's Bench, Patents and Commercial Court Guides and updates to the Senior Courts Costs Office Guide
Amendments made by legislation such as the Consumer Rights Act 2015, the Deregulation Act 2015, the Anti-social Behaviour, Crime and Policing Act 2014 and the Defamation Act 2013, and the Compensation (Claims Management Services) (Amendment) Regulations SI 2015 No. 42
Your free copy of
Costs & Funding following the Civil Justice Reforms: Questions & Answers
, 2nd Edition.
Costs & Funding following the Civil Justice Reforms: Questions & Answers is a unique book. Produced in conjunction with Practical Law™, this short and practical book tackles common practitioner questions on the effects of the 2013 Jackson reforms on costs and funding. It sets out to answer questions posed on topics ranging from funding of litigation, case and costs management and proportionality to settlement offers, QOCS and summary assessment. The second edition updates the questions, answers and commentary in light of new and ongoing case law and legislation in the fast-evolving costs and funding landscape post-Jackson.