Conflicts of Interest 5th ed (eBook)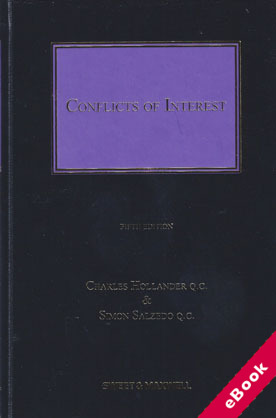 ISBN13: 9780414060920
Published: July 2016
Publisher: Sweet & Maxwell Ltd
Country of Publication: UK
Format: eBook (ProView)
Price: Out of print
The amount of VAT charged may change depending on your location of use.
The sale of some eBooks are restricted to certain countries. To alert you to such restrictions, please select the country of the billing address of your credit or debit card you wish to use for payment.
Sale allowed in
Anguilla
,
Antigua and Barbuda
,
Aruba
,
Austria
,
Bahamas
,
Barbados
,
Belgium
,
Bermuda
,
Bulgaria
,
Cayman Islands
,
Croatia
,
Cuba
,
Cyprus
,
Czech Republic
,
Denmark
,
Dominica
,
Dominican Republic
,
Finland
,
France
,
Germany
,
Gibraltar
,
Greece
,
Grenada
,
Guadeloupe
,
Guernsey
,
Haiti
,
Hungary
,
Ireland
,
Italy
,
Jamaica
,
Jersey
,
Latvia
,
Liechtenstein
,
Lithuania
,
Luxembourg
,
Malta
,
Martinique
,
Montserrat
,
Netherlands
,
Poland
,
Portugal
,
Puerto Rico
,
Romania
,
Saint Kitts and Nevis
,
Saint Lucia
,
Saint Vincent and the Grenadines
,
Slovakia
,
Slovenia
,
Spain
,
Sweden
,
Trinidad and Tobago
,
Turks and Caicos Islands
,
United Kingdom
,
Virgin Islands (British)
,
Virgin Islands (U.S.)
Sorry, due to territorial restrictions applied by the publisher we are unable to supply this eBook to United States.
Wildy's Book of the Month: August 2016
Conflicts of Interest provides authoritative guidance on the law relating to conflicts of interest in all its dimensions, from client conflict and personal conflict to commercial and judicial conflict.
It explains in detail the current legal position in various professional sectors (lawyers, accountants, the City, directors, estate agents and insurance brokers). The expert authors provide guidance on avoiding potential conflicts of interest while providing practical advice and remedies for any that do arise.
Now fifteen years since the publication of the first edition, this title continues to be a trailblazer in this highly topical and continually developing legal area. With the increasing internationalization of law firms - one result being that branches of the same firm in different countries might be called upon to act for opposing clients - actual and potential conflicts of interest are on the increase.
Whilst providing an authoritative guide to the law relating to all aspects of conflicts of interest, this title also offers practical guidance on how the problems and risks of conflicts of interest can be avoided or reduced and provides strategies for assessing and managing conflict situations.
Conflicts of Interest is a wide ranging an in-depth text, which offers:
A chapter considering conflicts arising from takeovers
Analysis of the issue of judicial conflict as it affects all decision-making tribunals
Expert guidance on the obligation to disclose information
Examination and explanation of information barriers (formerly frequently referred to as "Chinese Walls")
Consideration of the duty owed to the other side
Examination of the obligation of a professional who suspects his client of money-laundering or criminal activity to act as whistleblower
Presentation of the remedies available where a conflict of interest is perceived
Coverage of all relevant Law Society Rules and UK case law relating to conflicts of interest
A closer look at Commonwealth jurisprudence relevant to conflicts of interest
The new 5th Edition is entirely up-to-date and covers the following important cases, developments and issues that have arisen since the last edition:


Judicial conflicts: Resolution Chemicals v H Lundbeck and the judge's chemistry professor, Watts v Watts, Okritie v Urumov
Extra-judicial speeches: Sky UK Ltd v Ofcom
Arbitrators, arbitrations and counsel conflicts: Cofely v Bingham, Sierra Fishing v Farran, W v M , and discussion of current arbitral rules
Fiduciary duties and non-fiduciary duties of a fiduciary; fiduciary duty distinguished from duty of fidelity and the duty to disclose misconduct: Customer Systems v Ranson
Does the Bolkiah test apply to in-house lawyers?: Caterpillar v de Crean, Generics v Yeda
Kelly v Cooper reconsidered: Rossetti Marketing v Diamond Sofa
Solicitors' conflicts: Georgian American Alloys v White & Case
Duty to the other side: Frank Houlgate v Biggart Baillie
New regulatory rules for the Bar
Experts acting for both sides: Lloyds Syndicates v X
Conflicts and contracts: effect of the Consumer Rights Act 2015
Ambit of the retainer and conflicts: Minkin v Lesley Landsberg
This new 5th Edition of
Conflicts of Interest
is an essential text for solicitors undertaking work in commercial, litigation and business affairs, Barristers and Judges. The book also aims to provide expert guidance to compliance officers and lawyers and counsel working in-house, especially in the sectors of banking, finance, accountancy, insurance, property and professional indemnity.