The White Book Service 2017: Civil Procedure Volumes 1 & 2 (Book & eBook Pack)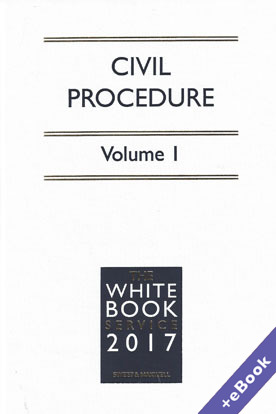 ISBN13: 9780414062658
Published: March 2017
Publisher: Sweet & Maxwell Ltd
Country of Publication: UK
Format: Book & eBook Pack (ProView)
Price: Out of print
The amount of VAT charged may change depending on your location of use.
The sale of some eBooks are restricted to certain countries. To alert you to such restrictions, please select the country of the billing address of your credit or debit card you wish to use for payment.
Sale allowed in
Anguilla
,
Antigua and Barbuda
,
Aruba
,
Austria
,
Bahamas
,
Barbados
,
Belgium
,
Bermuda
,
Bulgaria
,
Cayman Islands
,
Croatia
,
Cuba
,
Cyprus
,
Czech Republic
,
Denmark
,
Dominica
,
Dominican Republic
,
Finland
,
France
,
Germany
,
Gibraltar
,
Greece
,
Grenada
,
Guadeloupe
,
Guernsey
,
Haiti
,
Hungary
,
Ireland
,
Italy
,
Jamaica
,
Jersey
,
Latvia
,
Liechtenstein
,
Lithuania
,
Luxembourg
,
Malta
,
Martinique
,
Montserrat
,
Netherlands
,
Poland
,
Portugal
,
Puerto Rico
,
Romania
,
Saint Kitts and Nevis
,
Saint Lucia
,
Saint Vincent and the Grenadines
,
Slovakia
,
Slovenia
,
Spain
,
Sweden
,
Trinidad and Tobago
,
Turks and Caicos Islands
,
United Kingdom
,
Virgin Islands (British)
,
Virgin Islands (U.S.)
Sorry, due to territorial restrictions applied by the publisher we are unable to supply this eBook to United States.
Within 3 years of call? Download the Special Offer Order Form
Each 2017 White Book order will include a free copy of the 3rd edition of Costs & Funding following the Civil Justice Reforms: Questions & Answers, worth £99.
The White Book contains the sources of law relating to the practice and procedures of the High Court and the County Court for the handling of civil litigation, subject to the Civil Procedure Rules (CPR). These sources are supplemented by substantial and comprehensive expert commentary.
Volume 1
The Civil Procedure (Amendment) Rules 2017 (SI 2017/95) and the CPR 88th Update make changes to a number of Rules and Practice Directions, including Part 3 - The Courts Case & Costs Management Powers following the Court of Appeal Judgment in SARPD Oil International Limited v Addax Energy SA in respect of the cost budgeting rules; Part 3 is also amended to reflect a policy change in the collection and refund of hearing fees: hearing fees will no longer be automatically refunded where parties settle the claim before trial. An amendment to Part 45 is made as part of a package of amendments ensuring that costs in Aarhus Convention claims are not "prohibitively expensive". Amendments are made to Part 68 – References to the European Court to make clear the precise nature of the wording of references and format in which they must be submitted. The Practice Direction is substituted.

The 87th CPR Update introduced a new Practice Direction 31C (Disclosure and Inspection in relation to Competition Claims), which comes into force the day the Claims in respect of Loss or Damage arising from Competition Infringements (Competition Act 1998 and Other Enactments (Amendment)) Regulations 2017 (the 2017 Regulations) come into force. It makes provision for specific disclosure and inspection procedures for competition law claims further to the Damages Directive (Directive 2014/104/EU).

Part 52 (Appeals) - brand new commentary has been written to take account of changes made by the Civil Procedure (Amendment No.3) Rules (SI 2016/788) and pre-3 October 2016 sections where relevant.

Part 6 (Service) - a new section of standalone commentary on the heads of jurisdiction ('HJ') as set out in para 3.1 of Practice Direction 6B (Service out of the Jurisdiction) has been added. The new commentary will sit after PD6B alongside its companion commentary, 'Notes on Rules of Jurisdiction in the Judgments Regulation (Recast)'.

Costs – a new 'Short Guide to the Costs Rules' included alongside the Costs rules pre-April 1, 2013 destination table before Part 44, and editorial amendments made to the Summary Assessment of Costs 2005.

Practice Note to PD 51O (on paragraph 3.4(2))

Pre-Action Protocols – a second edition of the Protocol for Construction & Engineering Disputes
Volume 2


Court Guides - new editions of the Chancery and Queen's Bench Guides

Procedural Guides - updates to the Guides on Appeals

Part 61 (Admiralty Claims) - a revised Practice Note (Admiralty: Assessors' Remuneration) of 3rd January 2017

Insolvency Proceedings – the commentary to the Insolvency Proceedings section in Volume 2 (3E) has been updated to take account of the new Insolvency (England and Wales) Rules 2016, which come into force on 6th April 2017; the Chief Bankruptcy Registrar's Note on Bankruptcy Petitions – Hearings in Multiple Lists in the Rolls Building

Employment Issues - a new section on the interaction of jurisdiction of civil courts and employment tribunals has been added to the section on Employment Issues in Volume 2 (3O).

Limitation Act 1980 – the commentary to sections 14, 33 and 35 of the Limitation Act 1980 in Volume 2 (Section 8) has been revised.