Benjamin's Sale of Goods 10th ed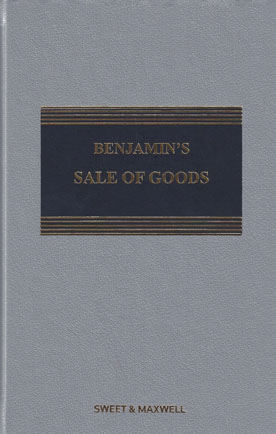 ISBN13: 9780414063969
Published: November 2017
Publisher: Sweet & Maxwell Ltd
Country of Publication: UK
Format: Hardback
Price: Out of print

Benjamin's Sale of Goods provides comprehensive coverage of case law and legislation regarding sale of goods in the UK and globally. First published in 1868, this title is a must-have purchase for commercial practitioners, academics and barristers.
Part of the Common Law Library, this title has established itself as the premier publication on sale of goods and is frequently cited in court for its depth and coverage.
This new 10th edition takes in major changes to the law since the previous, most importantly:-
The Res Cogitans case: a highly significant decision that means a supplier of goods reserves title to them pending payment, but permits the recipient to consume some or all of those goods before the property passes, then the contract is not one of sale at all. Benjamin's Sale of Goods up-to-date new edition guides you through this case law and its implications for those working in this area.
The Consumer Rights Act: this extracts from the Sale of Goods Act all provisions that apply only to consumer sales and also in many but not all instances disapplies the Sale of Goods Act when the contract is a consumer sale. It is imperative for consumer lawyers to learn how to navigate between the two Acts, which makes the expert commentary you can rely upon in Benjamin's Sale of Goods an absolute necessity, ensuring you get it right for your clients.
Benjamin's Sale of Goods
leaves you safe in the knowledge you have the expert counsel to rely upon, even when faced with the most complex challenges.
The answers you need are at your fingertips, allowing you to find answers quickly and work with confidence.
Key features include:-
Comprehensive coverage which covers the needs of practitioners interested in all areas of sale of goods case law
Clearly defined and structured content, with separate sections for Nature and formation of the Contract of Sale, Property and risk, Performance of the contract, Defective goods, Consumer Protection, Remedies, Overseas Sales, Conflict of laws
Provides high level text supported by all relevant developments in legislation and case law - the cases selected and the interpretation and guidance provided being one of the title's added values
Offers full treatment and analysis of the Consumer Rights Act 2015 as it affects sale of goods contracts
Provides a comprehensive explanation of the law of sale of goods, including terms and conditions, rights and obligations