Copinger and Skone James on Copyright 17th ed with 2nd Supplement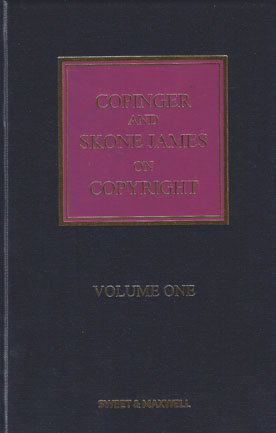 ISBN13: 9780414064300
Published: March 2019
Publisher: Sweet & Maxwell Ltd
Country of Publication: UK
Format: Hardback & Supplement
Price: £819.00

Despatched in 10 to 12 days.
The 2nd Supplement was published in March 2019
The 1st Supplement was published in December 2017
The Main Work was published in March 2016 Copinger & Skone James on Copyright provides the most rigorous analysis available of legislation and case law on copyright and related rights.
Covering copyright, moral rights, rights in performances and rights in unregistered design, it provides the last word on all these areas of law. The new 17th edition incorporates recent case law and legislative developments.
Covers the nature and history of copyright to help clarify the legal principles
Analyses in detail the four key rights: copyright, moral rights, rights in performances and rights in unregistered design
Looks at other related rights such as publication right, semiconductor topographies, database right, artist's resale right and public lending right
Deals fully with the latest issues surrounding digital copyright
Explains the process for civil remedies, covering who may sue or take action, who may be sued, rights of seizure, defences and procedural matters
Discusses criminal remedies, with coverage of seizure by customs of imported copies
Contains coverage of international aspects, looking at treaties and EU law
Examines the exploitation of rights in particular industries and by the collecting societies
Covers taxation issues
Reproduces the key statutory materials so they can be consulted easily