Facts & Figures 2017/18: Tables for the Calculation of Damages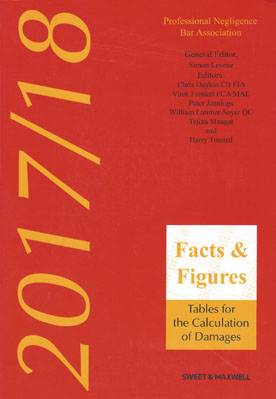 ISBN13: 9780414065062
Published: August 2017
Publisher: Sweet & Maxwell Ltd
Country of Publication: UK
Format: Paperback, A4
Price: Out of print

Facts & Figures 2017/18 is an essential desk-top companion for all personal injury lawyers. It is widely used across the profession and is referred to and cited in court by the judiciary.
Special damages constitute an important part of most personal injury claims and preparing a schedule of damages is a complex process. Facts & Figures: Tables for the Calculation of Damages makes the entire calculation process quicker, easier and more accurate.
Updated annually, it contains in one convenient volume all the information you need for assessing special damages including:-
Ready reckoner multipliers for retirement ages from 66 to 69 using the Ogden-recommended interpolation method
New section featuring the APIL Serious Injury Guide
Updated note on Auty pension loss claims
Updated note on periodical payments
Further guidance on how to split multipliers
Graphical illustration of FTSE 100 share price index
Updated Motoring Costs
Updated note on Carer fee rates
All the usual updates of net income calculations, tax tables and various indices
All tables of multipliers, including the Ogden Tables, have been fully revised and updated to incorporate the new discount rate of –0.75%, introduced by the Lord Chancellor on 27th February 2017.
All of the tables and information in Facts & Figures are updated annually so you can be sure your calculations rely on the most up-to-date figures available.
This edition marks the first in 21 years that Robin de Wilde, founder and previously General Editor, has not worked on the title. He will be greatly missed.