Dilapidations: The Modern Law and Practice 6th ed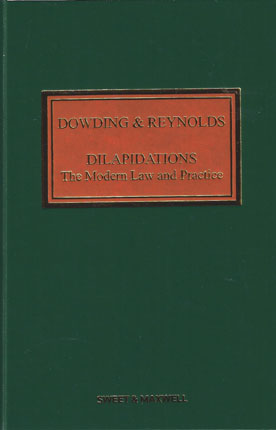 ISBN13: 9780414065444
Published: December 2017
Publisher: Sweet & Maxwell Ltd
Country of Publication: UK
Format: Hardback
Price: £243.00

This book is a leading authority in its field, providing comprehensive coverage of the legal principles relating to dilapidations, both residential and commercial, together with all the practical aspects pertaining to dilapidations claims.
It offers a comprehensive, one-stop reference, assisting the reader with dilapidations issues and in determining of the best course of action. It discusses the legal principles clearly and accompanies this with worked examples showing how they apply in practice. It also includes precedents, forms, statutes and extensive case referencing.
This book is now largely recognised by the courts and the professions as the leading work on dilapidations, and it is referred to, and quoted from, in many cases.
Key features:
The text explores the obligations of landlord and tenant with regard to the state and repair of property
Looks at repairing obligations, all types of repairing covenant, liability, considerations affecting the performance of obligations, liability, remedies, fees
Explores alternative ways of resolving claims such as arbitration and proposals for reform this area of law
It considers the rules in relation to both landlord and tenant and both commercial and residential property
Offers a comprehensive and authoritative discussion of legal principles relating to dilapidations with examples as to how those principles might apply in practice using relevant case law
Commentary is supported by relevant forms and precedents in the appendices
The renowned author team offer a practical five-question approach to analysing the basic repairing covenants
New to this edition:-


A number of chapters have been substantially re-written, to reflect both further developments in the relevant law and practice, and the development of our own thinking
Two new chapters have been added, one dealing with consequential losses (including loss of rent), and the other with contractual payment provisions. The former seemed to be of sufficient importance to merit its own separate chapter, whilst the latter deals with provisions which are becoming more common in leases
The impact of the Minimum Energy Efficiency Standards, which are due to start affecting lettings on 1st April 2018, to consider
Consideration of the impact of the Energy Act 2011, the 7th edition of the RICS Guidance Note "Dilapidations in England and Wales" (which came into effect on 1st September 2016) and the new Pre-action Protocol for Housing Disrepair Cases, which came into force on 6th April 2015
Recent cases referred to in this edition:-


Courtwell Properties Ltd v Greencore PF (UK) Ltd [2014] EWHC 184 (TCC)
Sunlife Europe Properties Ltd v Tiger Aspect Holdings Ltd [2014] 1 E.G.L.R. 30
South Essex Partnership University NHS Foundation Trust v Laindon Holdings Ltd [2016] EWCA Civ 377
Edwards v Kumarasamy [2016] UKSC 40; [2016] 3 WLR 310
Moorjani v Durban Estates Ltd [2016] 1 WLR 2265
Creative Foundation v Dreamland Leisure Ltd [2016] Ch 253
Consortium Commercial Developments Ltd v ABB Ltd [2015] EWHC 2128 (TCC)
Uddin v Islington [2015] HLR 28
Stratton v Patel [2014] EWHC 2677 (TCC)
Mussellwhite v Youssefi [2014] EWCA Civ 885; [2014] 2 P & CR 14
L Batley Pet Products Ltd v North Lanarkshire Council [2014] UKSC 27; [2014] 3 All ER 64
Peel Land and Property (Ports No. 3) Ltd v Sheerness Steel Ltd [2014] EWCA Civ 100; [2014] 2 P&CR 8
Reference will also be made to cases decided in Scotland, among them, Trustees for the Bridge Street Partnership v William Hill (Scotland) Ltd([2013] SLT (Sh Ct) 62 and PDPF GP Ltd v Santander UK Plc [2015] CSOH 40), and in the Commonwealth