Goode and Gullifer on Legal Problems of Credit and Security 6th Student ed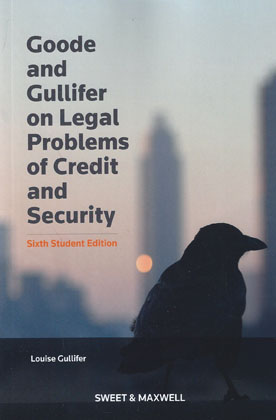 ISBN13: 9780414066007
Published: July 2018
Publisher: Sweet & Maxwell Ltd
Country of Publication: UK
Format: Paperback (Hardback in 2017)
Price: Out of print

The first edition of this book contained a revised and expanded series of lectures delivered by Sir Roy Goode at the Centre for Commercial Law Studies in 1982, and set out to explore a range of conceptual problems which arise from fixed and floating security.
Since publication, the work has become a key text for students and practising lawyers alike and is regularly cited by courts and in legal literature.
In this sixth edition, the third edited by Louise Cullifer, the framework of the previous editions has been retained and the book continues to be an exploration of the fundamental concepts of common law and equity as they affect typical secured transactions.
The book has been comprehensively updated to take account of:-
New discussion of taking security over electronic assets, such as electronic bills of lading, electronic databases and bitcoin
Consideration of the Cape Town Convention on International Interest in Mobile Equipments and the International Interests in Aircraft Equipment (Cape Town Convention) Regulations 2015
Revised discussion of automatic crystallisation clauses, in light of the Irish Supreme Court decision in Re JD Brian Ltd (In Liquidation)
Extensively revised discussion of Abbey National v Cann in the light of Southern Pacific Mortgages Ltd v Scott [2014] UKSC 52
Substantial update to discussion of the nature of security interest over receivables, on champerty and the operation of anti-assignment clauses
Discussion of new cases on equitable set-off, particularly Bibby Factors Northwest Ltd v HFD Ltd on the relationship between assignment and set-off
Goode and Cullifer on Legal Problems of Credit and Security
will be invaluable to any student studying this area of law.