Stroud's Judicial Dictionary of Words and Phrases 9th ed with 3rd Supplement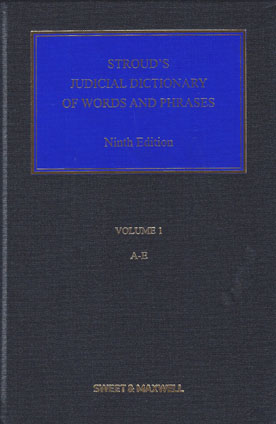 ISBN13: 9780414066151
Published: September 2017
Publisher: Sweet & Maxwell Ltd
Country of Publication: UK
Format: Hardback, 3 Volumes & Supplement
Price: Out of print

The ability to define words and phrases precisely is critical for any lawyer. Stroud's Judicial Dictionary allows the practitioner to have quick access to the exact, authoritative meaning of terms.
The 1st Supplement was published in September 2017
The Main Work was published in October 2016
Provides the judicial definitions of terms or words established in decided cases or statutes
An authoritative guide to the present construction of words and phrases occurring in legislation, decided cases and other legal documents
Sets out, where applicable, the evolution of a term's meaning
Assists practitioners in construing legislation and other documents or in the drafting of documents
A practical source of guidance for the setting out of definitions of particular concepts in the drafting of contracts and other legal documents
Comprehensive coverage across three volumes of terms from the obscure to the everyday
Includes both historic and contemporary terms
Where a term is used in a number of legal areas the entry is broken down and sub-divided to ensure ease of use
The text is regularly updated via supplementation
Linked and common terms are cross-referenced ensuring different usage of words is covered
Also includes references to definitions contained in statutes 
Entries are reviewed and examined to ensure the work contains only terms that will be of assistance to modern research
The new edition brings readers up to date on recent judicial and statutory definitions, including words that form key parts of the legal machinery and other expressions that happen to have been of importance in particular cases and may assist in the resolution of disputes or the drafting of contracts and other legal documents.