Personal Injury Pleadings 6th ed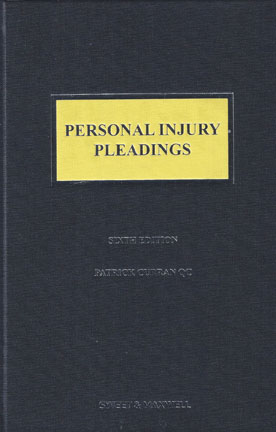 ISBN13: 9780414070776
Published: May 2019
Publisher: Sweet & Maxwell Ltd
Country of Publication: UK
Format: Hardback
Price: £261.00

Personal Injury Pleadings is the authoritative stand-alone source to assist the professional draftsman settling claimants' and defendants' statements of case.
The sixth edition deals with contemporary challenges in litigation as diverse and demanding as the requirements for pleadings in "fundamentally dishonest" QOCS cases; relief from sanctions applications; cases involving foreign travel; the consequences of BREXIT in Personal Injury litigation; post-ERRA pleadings requirements as to breach of statutory duty; and much more.
It provides informed, accurate, in-depth model pleadings, covering the whole gamut of personal injury work, drawn from many years' practical experience of real cases. Comprehensive subject coverage is combined with up-to-date informed analysis of recent case law, legislation and subordinate legislation, changes in the Civil Procedure Rules, costs issues, and the minutiae of troublesome practical problems such as the special difficulties involved in fatal accident and late-onset terminal disease claims.
Key features
Provides commentary and practical guidance on drafting in various areas of Personal Injury law, in addition to up-to-date case law, relevant legislation and sample pleadings
Contains a comprehensive set of sample pleadings together with detailed advice on their correct drafting, ensuring practitioners prepare statements of case that are properly constructed
Lays out all pleadings in modern English in line with the Civil Procedure Rules
Covers a wide range of personal injury areas from clinical negligence to liabilities in relation to employers, motorists, occupiers and products
Explains how case law applies to specific types of pleadings
Contains a useful chapter on when a court should carry out a summary assessment and how the court approaches such assessments
Provides a selection of defences, paired with specific pleadings, ensuring the work is relevant to both claimant and defendant practitioners
Includes the relevant Rules, Protocols and Practice Directions and relevant legislative provisions, current and historical, for context and ease of reference
Features additional material including example claim forms in the event of personal injuries sustained while playing a sport