Sealy & Milman: Annotated Guide to the Insolvency Legislation 2021: Volumes 1 & 2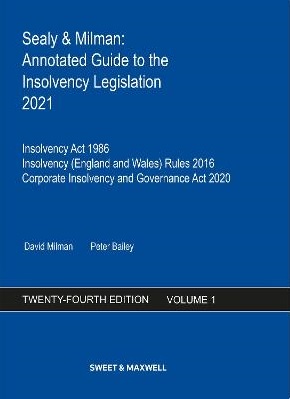 ISBN13: 9780414088511
Published: May 2021
Publisher: Sweet & Maxwell Ltd
Country of Publication: UK
Format: Paperback, 2 Volumes
Price: Out of print

Sealy and Milman: Annotated Guide to the Insolvency Legislation is viewed as the definitive guide to insolvency law. Now in its 24th edition, this annual guide offers practitioners annotated commentary and clarification on the legal and practical implications of the latest insolvency legislation, whether in Acts of Parliament, Statutory Instruments, or relevant Practice Directions, and on the relevant case law.
Selected key changes in the 24th Edition
In addition to all key changes since the last edition, the 24th edition now includes:
The new moratorium for companies introduced by the Corporate Insolvency and Governance Act 2020 (CIGA) and replacing the CVA moratorium
Contains a description of the new Debt Respite Scheme (Breathing Space moratorium) for individuals in force from 4 May 2021
Gives context on the new 'restructuring plan' – an enhanced scheme of arrangement – introduced by the Corporate Insolvency and Governance Act 2020
Amends the annotations and text to the Insolvency Act 1986 to reflect changes made by CIGA, and provides the text of self-standing CIGA provisions where relevant
Explains the position of the European Insolvency Regulation after Brexit
Covers the return of Crown preferential debt under the Finance Act 2020.
All the relevant new Practice Directions are reproduced
Updated introduction to the Scottish rules, written by leading Scottish insolvency academic Donna McKenzie-Skene.
Key cases considered in this edition:
Bresco Electrical Services Ltd v Michael J Lonsdale (Electrical) Ltd [2020] UKSC 25
Re Nektan (Gibraltar) Ltd [2020] EWHC 65 (Ch)
Ezair v Conn [2020] EWCA Civ 687
Re Debenhams (Retail) Ltd [2020] EWCA Civ 600
Re A.R.G. (Mansfield) Ltd [2020] EWHC 1133 (Ch)
Re Akkurate Ltd [2020] EWHC 1433 (Ch)
Formats
Sealy & Milman is available as a two-volume set or separately and in print, ebook, and online formats.
Volume 1 contains in-depth explanations on the main core legislation, including the Insolvency Act 1986 and the Insolvency (England and Wales) Rules 2016 as amended
Volume 2 features the Company Directors Disqualification Act 1986, key parts of the Companies Act 2006 (including the new Part 26A) and the post Brexit version of the EU Regulation on Insolvency Proceedings 2015/848 and the Cross-Border Insolvency Regulations 2006. In sum this volume includes the text, in whole or part, of 28 Acts, over 58 Statutory Instruments and a number of practice directions